Clarksville, TN – Although nearly 15,000 women served in Vietnam during the war, at that time there was little to no media coverage about these unsung heroes' experiences and sacrifices, or their homecomings and readjustment difficulties.
This month, the Roxy Regional Theatre explores the often overlooked contributions of women in service with Shirley Lauro's "A Piece of my Heart", opening Friday, April 13th, at 8:00pm. In keeping with the theatre's traditional pay-what-you-can opening night, all tickets not pre-sold at the regular ticket price will go on sale at 7:30pm that evening for a $5.00 minimum donation.

Clarksville, TN – Houses were packed to capacity, Broadway World called it "one of the year's most unforgettable performances," and audiences have been begging for more ever since.
Back by popular demand following 2014's limited run upstairs in the Roxy Regional Theatre's theotherspace, now Executive Director Ryan Bowie reprises his tour de force performance of John Cameron Mitchell's groundbreaking award-winning musical "Hedwig and the Angry Inch" in a production completely re-imagined for the mainstage, June 30th – July 15th.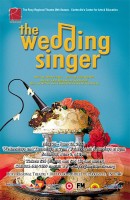 Clarksville, TN – The Roxy Regional Theatre is currently staging their production of the smash hit musical The Wedding Singer which takes viewers on a flashback to the 1980s, complete with the big hair, corny clothes, and some amazing music.
In the show, we are back in 1985 with rock-star wannabe Robbie Hart (Josh Bernaski), New Jersey's favorite wedding Singer. He is the life of every party, until his fiancée Linda (Sara Fetgatter) ditches him at the altar. He is "Shot through the heart" to paraphrase Bon Jovi, after which in his grief Robbie makes every wedding he sings at as disastrous as his own.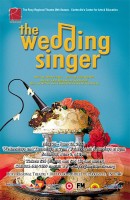 Clarksville, TN – Starting May 25th, let the Roxy Regional Theatre's "The Wedding Singer" take you back to a time when hair was big, greed was good, collars were up, and a wedding singer might just be the coolest guy in the room.
It's 1985, and rock-star wannabe Robbie Hart is New Jersey's favorite wedding singer. He's the life of the party, until his own fiancée leaves him at the altar. Shot through the heart, Robbie makes every wedding as disastrous as his own. [Read more]