Clarksville, TN – After the turkey and stuffing are put away on Thanksgiving night, bring your out-of-town guests to Historic Downtown Clarksville for family entertainment sure to get everyone in the holiday spirit.
Charles M. Schulz's "A Charlie Brown Christmas" opens at the Roxy Regional Theatre on Thursday, November 23rd, at 7:00pm. In keeping with the theatre's opening night pay-what-you-can tradition, all tickets not pre-sold at the regular ticket price will go on sale at 6:30pm that evening for a $5.00 minimum donation.
As an Black Friday bonus, pay-what-you-can tickets will also be available for the 8:00pm performance on Friday, November 24th, beginning at 7:30pm that evening.

Clarksville, TN – Take a little rock 'n' roll, throw in a thunderstorm and a flat tire, mix it with a creepy castle inhabited by a mad scientist, a muscle hunk and a handful of other questionable characters … and you have the recipe for a night out you will never forget!
Richard O'Brien's cult classic "The Rocky Horror Show" returns to the Roxy Regional Theatre for a limited engagement, October 20th – October 28th. So, dig out your fishnets and sharpen those stilettos … that sweet transvestite and his motley crew are back for the sixth year in this annual tradition on the corner of Franklin and First in Historic Downtown Clarksville.

Clarksville, TN – Pay no attention to that man behind the curtain!" Just click your heels together and travel over the rainbow this weekend as Clarksville's oldest professional theatre enters Season 35 of live entertainment on the corner of Franklin and First in Historic Downtown Clarksville. F&M Bank presents "The Wizard of Oz" at the Roxy Regional Theatre now through September 30th, 2017.
Annabelle Szepietowski stars as Kansas farm girl Dorothy Gale, who dreams of escaping her mundane life until one day a tornado hits her hometown and carries her away to a land at the end of the rainbow.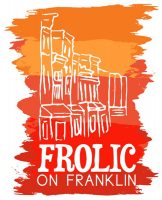 Clarksville, TN – Applications are now being accepted for booth space at the 12th annual "Frolic on Franklin: A Celebration of the Arts."
The event will be held on Saturday, September 16th, 2017 from 8:30am to 3:30pm, in the 100-block of Franklin Street in Historic Downtown Clarksville.
Coordinated by the Roxy Regional Theatre, the street event offers 30 vendor spaces for artists to showcase and sell fine arts and handcrafted items, including photography, paintings and drawings, pottery, jewelry, glass items and more.

Clarksville, TN – This summer, beat the heat and come on down to Truvy's beauty shop, where the motto is "there is no such thing as natural beauty" and all the ladies who are "anybody" come to have their hair done. The Roxy Regional Theatre presents Robert Harling's stage hit "Steel Magnolias", July 28th through August 19th, 2017.
Directed by Ryan Bowie, the beloved comedy-drama which inspired the 1989 film starring Dolly Parton, Julia Roberts, Sally Field, Shirley MacLaine, Olympia Dukakis and Daryl Hannah centers on the bond among a group of six Southern women at a small-town beauty shop in northwest Louisiana.

Clarksville, TN – Houses were packed to capacity, Broadway World called it "one of the year's most unforgettable performances," and audiences have been begging for more ever since.
Back by popular demand following 2014's limited run upstairs in the Roxy Regional Theatre's theotherspace, now Executive Director Ryan Bowie reprises his tour de force performance of John Cameron Mitchell's groundbreaking award-winning musical "Hedwig and the Angry Inch" in a production completely re-imagined for the mainstage, June 30th – July 15th.

Clarksville, TN – Sentimental pirates, bumbling policemen, dim-witted young lovers, dewy-eyed daughters and an eccentric Major-General are just a few of the characters dropping anchor at the corner of Franklin and First in Historic Downtown Clarksville.
The Roxy Regional School of the Arts presents Gilbert and Sullivan's swashbuckling musical comedy "The Pirates of Penzance, Jr." at the Roxy Regional Theatre, May 26th through June 17th.

Clarksville, TN – To anyone who has ever had a dream and dared to try and make that dream a reality, no matter what the obstacle, the Roxy Regional Theatre has just the show for you. Jeff Bowen and Hunter Bell's unique, unusually named hit musical comedy [title of show] comes to the corner of Franklin and First in Historic Downtown Clarksville, April 28th – May 13th.
A hilarious musical about a musical by people who write musicals, this Tony Award-nominated one-act centers on two struggling writers, Jeff and Hunter, who are desperate to get a piece into the New York Musical Theatre Festival. The only problem is they have no ideas … and the submission deadline is a mere three weeks away.
[Read more]

Clarksville, TN – Children across the nation recently celebrated the birthday of Dr. Seuss with Read Across America Day. The Roxy Regional Theatre continues the celebration in Historic Downtown Clarksville with the staging of "SEUSSICAL: The Musical", opening this Friday, March 17th, and continuing through April 8th.
Kendall Adaire Payne stars as The Cat in the Hat in this musical extravaganza that is sure to entertain the entire family.

"The Cat in the Hat is the narrative host who guides the audience through the show," Payne said. "He pops up here and there and pretty much everywhere, usually out of nowhere, with comedic blurbs."

Clarksville, TN – The Roxy Regional Theatre opens its production of "The Diary of Anne Frank" this Friday.
The play is based on the diary kept by its namesake during the two years she and her family spent in hiding from the Nazis. The Frank family was eventually apprehended and Anne died of typhus in the Bergen-Belsen concentration camp.
Her father, Otto Frank, was the family's only survivor and had a hand in getting his daughter's writing published. Today the diary has been published in more than 60 languages.