Fort Campbell, KY – On November 1st, 2011 around 4:45pm, 200 soldiers from the 584th Ordnance Maintenance Company part of the 101st Sustainment Brigade "Lifeliners" returned home to Fort Campbell KY. They were returning home from a 12-month deployment to Afghanistan in support of Operation Enduring Freedom where their mission was to provide field maintenance within Regional Command-East as part of the 142nd Combat Sustainment Support Battalion.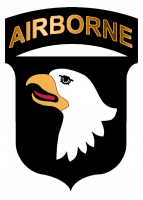 Fort Campbell, KY – Fort Campbell held a Welcome Home Ceremony today for elements of its 101st Headquarters and Headquarters Battalion; the flight included the 101st Airborne Division Flag; Fort Campbell's Commanding General Maj. Gen. John F. Campbell, Command Sgt. Maj. Scott Schroeder, and 25 soldiers.
Major General Campbell and his headquarters element began their most recent "rendezvous with destiny" in June, 2010 when they assumed responsibility and control of RC-East and CJTF-101. Their mission was to conduct combined action counterinsurgency operations to protect the population, increase the competency, capacity, and credibility of Afghan institutions and defeat insurgent forces in partnership with the Government of the Islamic Republic of Afghanistan (GIRoA) and in close coordination with joint, interagency and multinational partners.