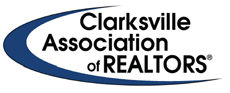 Clarksville, TN – Three new Realtors, Melissa Gindhart, Michell Lochner, Ross Morford, recently began real estate careers in the Clarksville area. All three were students of the Clarksville Area Real Estate School (CARES), which is the Clarksville Association of Realtors'® pre-licensing school for potential real estate licensees.
CARES was developed by the Clarksville Association of Realtors® to provide an essential foundation of real estate education for people seeking to obtain a real estate license, and for those who wish to expand their knowledge of the general real estate profession. Over 100 students have taken the courses in a little over a year since its inception.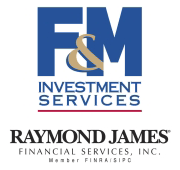 Clarksville, TN – Each quarter, the Raymond James Investment Strategy Committee completes a detailed survey sharing their views on the investment environment, and their responses are the basis for a discussion of key themes and investment implications covered in this quarter's Investment Strategy Quarterly.
Read an overview of the key themes below, or download the entire publication for a more thorough view of the markets and the economy.

Clarksville, TN – Crye-Leike is pleased to welcome affiliate broker Heather Flowers to its Clarksville-St. Bethlehem office. Practicing real estate for the past six years, Flowers transfers to Crye-Leike from Keller Williams.

Clarksville, TN – Like many other industries the Real Estate business has undergone major changes since the rise of the Internet. Local Realtor Maurice Vaughn with over 28 years of experience in the business had come to see the writing on the wall. Businesses had either adapt their business models to utilize the new technology, or face extinction.
Keeping up with constantly changing technology is expensive, which can put it out of the reach of many small businesses. So to enable his reality company to continue to succeed, Vaughn partnered with the Realogy Corporation who signed a licensing deal in October 2007 with the Meredith Corporation to use the Better Homes and Gardens brand to market real estate.In just one year Vaughn's company "Better Homes and Garden Real Estate Hometown Connection," has risen to become one of the top three real estate companies in Clarksville-Montgomery County. "We started out with 7 agents, and in just a year we now have 64, a growth of 800%."
This pattern seems to be following the previous years. In 2006 and 2008 our numbers were in the $190's. In 2005, 2007 and 2009 our numbers are in the $200's. We do show the numbers for 2009 are lower range of $200's whereas 2005 and 2007 are in the $280-290 range. Still it is a sign of movement!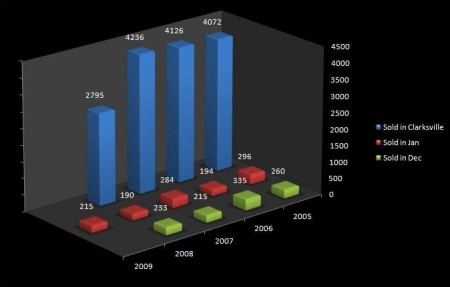 In the blue column you will see the total numbers, according to our local multiple listing service.
In 2005 we sold from January 1 – December 31, 4072 properties. In 2006, 4127. In 2007, 4236. [Read more]