Clarksville's First Thursday Art Walk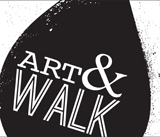 Clarksville, TN – Produced by The Downtown Clarksville Association, Clarksville's First Thursday Art Walk is a free, self-guided tour spanning a 5-block radius that combines visual art, live music, engaging events and more in the heart of Downtown Clarksville.
With 10+ venues, bars and businesses participating each month, the First Thursday Art Walk in Clarksville is the ultimate opportunity to savor and support local creative talent.

Clarksville, TN – The Customs House Museum and Cultural Center is located in historic downtown Clarksville, Tennessee. Come explore an entire city block featuring large gallery spaces filled with fine art, science and history.
Some of the events in July at the Museum are: Fantastical Patterns: Quintin Owens: Memory Structures, International Reflections: The Art of Women Artists Mentors, World in Wood: The Folk Art of Herbert Baggett, Interpreting the Familiar: The Art of Hattie Marshall Duncan, and Randy Rubel to Reveal Log House Mystery.
Montgomery County, TN – The Clarksville-Montgomery County School System (CMCSS) is excited to announce its Rolling Study Halls pilot program in partnership with Google and the Clarksville-Montgomery County Education Foundation.
Rolling Study Halls is a Google-funded initiative that seeks to improve technology access and extend learning to the after-school space. By powering school buses with WiFi and providing educator support, Rolling Study Halls is helping students across the US—especially in rural communities—access more learning hours outside of school.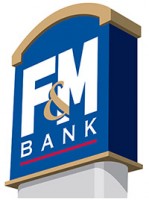 Clarksville, TN – On October 2nd, 2017, the Blood Assurance Blood Mobile and the F&M FunMobile are teaming up for a Blood Drive at F&M Bank's Main Office parking lot located at 50 Franklin Street in Downtown Clarksville. The event will go from 10:00am until 3:00pm.
Blood Assurance will be giving all donors a FREE "One Cool Donor" t-shirt and your choice of "I Bleed" football themed socks! You will also be entered to win a $250.00 gift card to Walmart!
The F&M FunMobile will be on site with FREE hot dogs, popcorn and drinks!!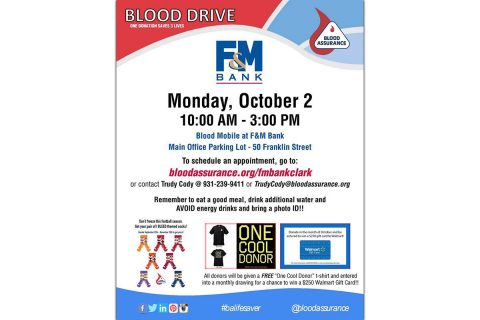 [Read more]

Clarksville, TN – For the past four years, Austin Peay State University senior music education and music performance double major Garrett Coscolluela has spent one weekend in August marching on the field of Lucas Oil Stadium in Indianapolis, Indiana.
But it wasn't until this past August — in his final trip to the home of the NFL's Indianapolis Colts — that Coscolluela had the hardware to prove he was among the best in what's considered the major leagues of marching band performance.
CMCSS Announces Other Appointments

Montgomery County, TN – The Clarksville-Montgomery County School System has made four administrative appointments for leadership positions.
Jean Luna is named the Director of High Schools for CMCSS. She has 19 years of experience in education in the states of Iowa, Washington, North Carolina and Tennessee. She will earn her doctorate of education from Lipscomb University this December.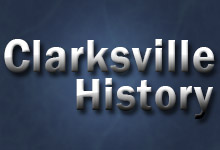 Clarksville, TN – Have you heard the story of the first frontier settlement on the Red River?
Many times the history beneath our feet here in Montgomery County is not in the forefront of our minds. It can be easily forgotten that the many places we live, shop, or work every day contain stories from multiple historical periods of Tennessee. In this case, it is the history of westward expansion and the Indian Wars of the 18th century.
People may wonder why these stories matter. Many of us were at one time young students who felt history class was incredibly boring and even called it our least favorite subject. Yet, in truth, it is those who devote some time to the subject in depth who are a very fortunate group of people. They gain insights and knowledge; they increase their wisdom.
The 152nd Meeting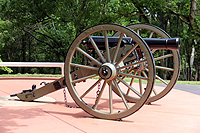 Clarksville, TN – The next meeting of the Clarksville (TN) Civil War Roundtable will be on Wednesday, December 21st, 2016 at the Bone & Joint Center, 980 Professional Park Drive, right across the street from Tennova Healthcare. This is just off Dunlop Lane and Holiday Drive and only a few minutes east of Governor's Square mall.
The meeting begins at 7:00 pm and is always open to the public. Members please bring a friend or two – new recruits are always welcomed.
Topic: "General William T. Sherman"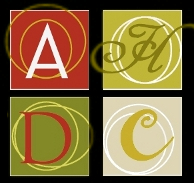 Clarksville, TN – Two Clarksvillians will be honored this Monday, December 5th, by the Clarksville-Montgomery County Arts and Heritage Development Council for their achievement in art and in preserving our heritage.
Dr. James Diehr, professor emeritus of art at Austin Peay State University, will receive the Lifetime Achievement in Art award and Inga Filippo, APSU professor emerita of library science, will receive the Lifetime Achievement in Heritage award.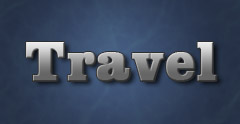 Clarksville, TN – Supervisory Librarian, Robert F. Sink Memorial Library at Fort Campbell, James Moore and Special Collections Librarian, Felix G. Woodward Library, Austin Peay State University, Sean Hogan, are world travelers.
Each year they cruise to a different location and this June their travels took them on a Viking ocean cruise to both Norway and Scotland. Following are James' enticing description of their tour and Sean's exquisite photographs: