Severe winter weather, flu disrupting blood donations

Nashville, TN – Winter storms and the flu don't just mean a lot of people are missing work and school – it also means they can't keep their American Red Cross blood and platelet donation appointments.
The Red Cross is urging healthy donors of all blood types to roll up a sleeve to help maintain the blood supply for patients in need.
Severe Winter Weather forces Blood Drive Cancellations causing Thousands of Donations to go Uncollected

Nashville, TN – This January, National Blood Donor Month, the American Red Cross has an urgent need for blood and platelet donors of all blood types to make an appointment to give now and help address a winter blood donation shortage.
Clarksville Mayor Kim McMillan, United Way, Happy Kids open Outdoor Resource
Clarksville, TN – Clarksville Mayor Kim McMillan, United Way Executive Ginna Holleman and a playful group of Head Start students opened the Born Learning Trail at Liberty Park on Wednesday.
The project is a partnership between the City of Clarksville and the United Way of the Greater Clarksville Region.

Clarksville, TN – The Clarksville-Montgomery County Community Action Agency is currently taking applications for the Weatherization Assistance Program. This program is designed to assist low-income households with insulation, air sealing, window and door repairs and consumer education. [Read more]

Clarksville, TN – The Clarksville Area Chamber of Commerce announces upcoming events during the month of November.
On November 10th, the Chamber will be hosting the 20th Annual Veterans Day Breakfast at the Austin Peay State University Morgan Center. The morning will begin with a buffet style breakfast at 7:30am followed by a salute to our veterans and then will conclude with COL Andrew P. Poppas, Deputy Commander (Operations), 101st Airborne Division (Air Assault), serving as the keynote speaker.
Tickets are currently on sale for $15.00 each and can be purchased by contacting Yvonne Pickering at .us or 931.245.4340. [Read more]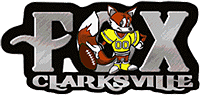 Clarksville, TN – The Clarksville Fox host their first game of the season againest the Chattanooga Locomotion at 7:00pm Saturday April 2nd at Northwest High School, 800 Lafayette Road. Admission is only $8.00 for adults and kids 5 and under get in free. Gates open at 6:00pm.
The Clarksville Fox is a fully volunteer non-profit semi-pro organization.