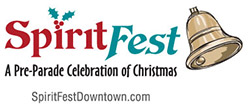 Clarksville, TN – Downtown Clarksville was the site of the 3rd Annual SpiritFest Saturday, a holiday event that preceded this year's 58th Annual Clarksville Lighted Christmas Parade.
Festivities were held in an area that included streets and parking lots between First Presbyterian Church on Main Street, Trinity Episcopal Church on Franklin Street, and the new Downtown Commons space.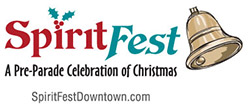 Clarksville, TN – The 3rd Annual SpiritFest, a holiday event from 2:00pm until 5:00pm on Saturday, December 2nd, 2017, will offer a bounty of free activities, including visits with Santa Claus, rides on the International Express Bus, four kids' inflatables, live music on the new Downtown Commons stage, ice skating, art and gift markets, food trucks and a live nativity with animals.
It will start three hours before Clarksville's 58th Annual Lighted Christmas Parade, which will pass by its location in Historic Downtown Clarksville.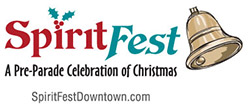 Clarksville, TN – The first-ever SpiritFest, a celebratory holiday event at 2:30pm on Saturday, December. 5th, will offer an irresistible opportunity for those who gather early to watch the city's 56th Annual Lighted Christmas Parade. It is being touted as "A Pre-Parade Celebration of Christmas."
Rather than getting an early parking spot – then waiting through cold and boredom until the parade begins – parade-goers can enjoy a variety of family-friendly activities during SpiritFest.