Clarksville, TN – Austin Peay State University announced today that it has reached a record fundraising total of $9.85 million in gifts and pledges for the 2018 fiscal year.
This total is the second-highest in university history, and it is the result of a continuous increase in donations over time.

Clarksville, TN – On Monday, April 16th, Brad Averitt, Austin Peay State University director of development, will join about 30,000 other runners for one of the nation's most hallowed races—the Boston Marathon.
He's likely to stand out, wearing a red shirt with the APSU logo on the chest, but as he weaves past slower runners, they might wonder about the words on the back — #GovsGive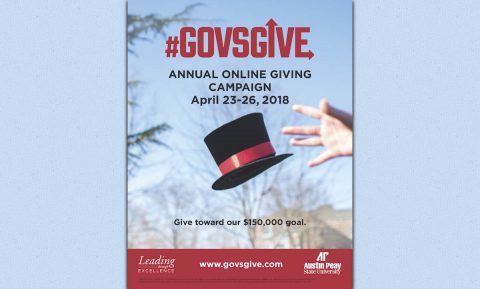 [Read more]

Clarksville, TN – Austin Peay State University President Alisa White and her husband, Elliott Herzlich, commemorated the University's 90th anniversary with a special ceremony and tree planting on Wednesday.
The noon event took place on the lawn in front of the Browning Building, and it included performances by the Governors' Own Marching Band, the APSU Chamber Singers, the University Choir, the Austin Peay Dance Team and members of the APSU Cheerleading Squad.