Clarksville, TN – A team from Austin Peay State University's Department of Mathematics and Statistics recently won the Math Jeopardy Championship at a competition held during the 2017 Southeastern Section meeting of the Mathematical Association of America (MAA). The APSU team defeated 26 other teams from colleges and universities in the Southeast.
Austin Peay fielded two teams, mentored by Dr. Nicholas Kirby, assistant professor of mathematics, and Dr. Ben Ntatin, professor of mathematics.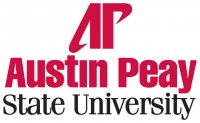 Clarksville, TN – The Austin Peay State University Trahern Gallery, with support from the APSU Center of Excellence for the Creative Arts and the APSU Department of Art and Design, is sharing the work of artist Britney Jo Carroll with the Clarksville community through October 16th.
Carroll uses mixed-media installations to examine her struggles with the expressive and oppressive traditions within gender roles. In her work, she analyzes herself and encourages viewers to examine his or her unspoken fears and desires. [Read more]