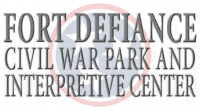 Clarksville, TN – Mark Britton will present a "Civil War Medical Display" at 1:00pm on Saturday, May 20th at Clarksville's Fort Defiance Civil War Park and Interpretive Center.
The presentation is part of a new educational series, Life in the 1800's, sponsored by The Friends of Fort Defiance.

Clarksville, TN – The Clarksville Parks and Recreation Department received a total of eight awards from the Tennessee Recreation and Parks Association at this year's state convention held in Knoxville, Tennessee.