Clarksville, TN – The Customs House Museum and Cultural Center is located in historic downtown Clarksville, Tennessee. Come explore an entire city block featuring large gallery spaces filled with fine art, science and history.
In the month of June, the Museum will feature 2012 National Juried Exhibition, Outdoors In: The Paintings of Lori Putnam, Civil War Remedies, "Sunday Family Fun – Be an Architect" and so much more.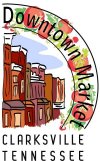 This marks the 6th week of the Downtown Market, and it's also Father's Day weekend! Come and make a Father's Day card for Dad at the arts and crafts tent.
This week the featured guest will be Summer Fun Horse Camp of Clarksville. Their camps are designed for those young ones that do not get a chance to have hands on experience with horses as well as children that have horses and want to learn more.
The kids get a chance to learn about horses while learning about care and safety. Each day is packed full of outdoor activities that provide interaction with the other campers and with the horses. [Read more]

Nashville, TN — Father's Day is a wonderful time for men to celebrate the role they play in influencing the choices children in their lives make. One of these choices is tobacco use.
"This Father's Day, I urge dads to think about and discuss the effects tobacco may be having on their family," said Commissioner Susan R. Cooper, MSN, RN. "If they do smoke, fathers can set a good example by either quitting smoking or influencing children to resist the pressures they may face from their peers to use tobacco products." [Read more]