Clarksville, TN – Nominations are being sought for the 2018 Ovation Awards, presented by the advisory board of the APSU Center of Excellence for the Creative Arts (CECA).
Nominations are open to the public, and nominations will be accepted through Thursday, February 8th, 2018.

Clarksville, TN – There is a tree near the Browning and McCord Buildings on the campus of Austin Peay State University that has seen it all.
Over the years, the massive oak has watched Austin Peay grow from a normal school to a college to a University with over 10,000 students, all the while withstanding the passage of time — and the pounding of an F4 tornado that devastated Clarksville in 1999.

Clarksville, TN – Austin Peay State University President Alisa White and her husband, Elliott Herzlich, commemorated the University's 90th anniversary with a special ceremony and tree planting on Wednesday.
The noon event took place on the lawn in front of the Browning Building, and it included performances by the Governors' Own Marching Band, the APSU Chamber Singers, the University Choir, the Austin Peay Dance Team and members of the APSU Cheerleading Squad.
Clarksville, TN – Clarksville Mayor Kim McMillan issued a proclamation Wednesday noting Austin Peay State University's 90th birthday, and hailing its educational excellence and service to Clarksville and the State of Tennessee.

Clarksville, TN – On Tuesday, the Customs House Museum cut the ribbon on its newest permanent exhibit, "Becoming Clarksville: Honoring Legacies of Leadership."
Through the prism of leadership, the exhibit explores the history of Clarksville and Montgomery County, focusing on the stories of individuals who helped shape the city, featuring unique interactive and video elements. Becoming Clarksville also serves as a legacy for the Clarksville Jaycees, remembering its history and contributions to the people of Clarksville.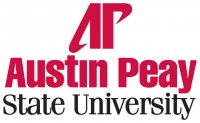 Clarksville, TN – In 2010, a group of Clarksville residents, led by local lawyer Evans Harvill, set out on a mission to rename the state-of-the-art concert hall in Austin Peay State University's Music/Mass Communication Building.
For more than 30 years, these individuals had enjoyed world-class musical performances presented by Drs. George and Sharon Mabry, and they thought it a shame that the two long-time APSU music faculty members didn't have something properly honoring their service to the community.