Clarksville, TN – Batson Nolan Law Firm attorney Katy Olita has been approved as a Tennessee Supreme Court Rule 31 listed mediator in general civil cases by the Tennessee Alternative Dispute Resolution Commission (ADRC). Mediation is an informal process by which parties have the opportunity to resolve a dispute by agreement.
The requirements to be listed by the ADRC as a Rule 31 Mediator in general civil cases include, being a person of good moral character and certifying in writing an intention to comply with the conditions and obligations imposed by Rule 31; having a graduate degree plus four years of full-time practical work experience; and completing 40 hours of general mediation training.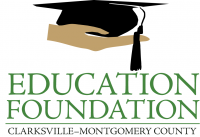 Clarksville, TN – Abby Binkley has been named Executive Director of the Clarksville-Montgomery County Education Foundation.
Binkley, who earned her B.S. in K-12 health and physical education from Kennesaw State University and her master's of education degree in administration and supervision from Bethel University, has one year of school administrative experience and nine years of teaching experience in Clarksville-Montgomery County School System.