City of Clarksville
Tennessee Arts Commission event draws arts leaders
Clarksville, TN – Clarksville Mayor Kim McMillan welcomed more than 200 arts administrators, educators and artists from across Tennessee to Clarksville for two days of learning and sharing.
The Tennessee Arts Commission is presenting the 2018 Tennessee Arts & Arts Education Conference, Design Thinking: A Pathway to Innovation in the Arts.
Clarksville Parks and Recreation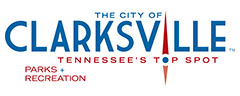 Clarksville, TN – Clarksville Parks and Recreation reopened Bel-Aire Park, a neighborhood green space on Marie Drive off of Peachers Mill Road, Thursday with new and improved playground equipment.
"When I became Mayor, one thing that was very important to me, was ensuring we had recreational opportunities, parks and other amenities for all children to enjoy," Clarksville Mayor Kim McMillan said.
Youths invited to enjoy food, games, crafts and sports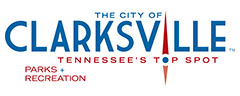 Clarksville, TN – Clarksville Mayor Kim McMillan invites Clarksville youths to join in a summer program filled with fun activities and free food designed to help them fight summertime boredom.
The sixth season of the Mayor's Summer Night Lights program will kick off June 4th and continue at various locations throughout the summer with DJs, athletic competitions, arts and crafts, local music performances, and more.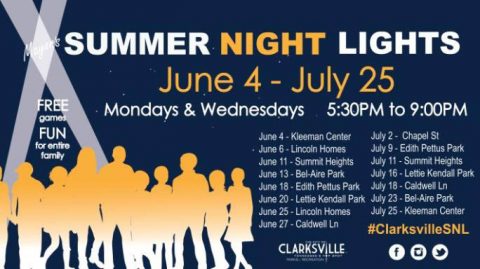 [Read more]
Clarksville-Montgomery County annual Memorial Day Ceremony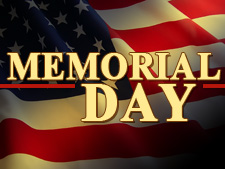 Clarksville, TN – Clarksville-Montgomery County hosted its annual Memorial Day Ceremony at William O. Beach Civic Hall, Monday, with Guest Speaker Major (Ret,) Bill Summers, US Air Force.
Hundreds of people filled the room to honor America's fallen soldiers, both known and unknown, as local leaders took turns at the podium sharing their thoughts on the meaning of the heroic sacrifice so many have made for this country, and the impact that sacrifice has had on us all.
Pat Head Summitt Statue, life-story display will be unveiled at Freedom Point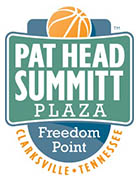 Clarksville, TN – Clarksville civic volunteers will achieve their goal of honoring Pat Head Summitt, hometown hero and legendary University of Tennessee women's basketball coach, with the dedication of the Pat Head Summitt Legacy Plaza at Freedom Point next month.
A bronze statue of Coach Summitt and an interpretative display of her life story will be dedicated at 3:00pm Friday, June 15th, 2018 in Clarksville's Liberty Park. The public is invited to the event, which will include introductions of sculptor Brett Grill, members of Pat Head Summitt's family, dignitaries and committee members, followed by a keynote speech and unveiling of the statue.
Heritage Park will host free movie screening, vendors and fun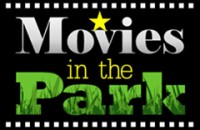 Clarksville, TN – Clarksville Parks and Recreation's Movies in the Park, Clarksville's free, outdoor movie series will celebrate its 13th season as it kicks off on Saturday, May 26th, 2018 with the showing of "Wonder Woman" at Heritage Park, 1241 Peachers Mill Road.
Pre-show activities, coordinated by the Clarksville Parks and Recreation Department, will begin at 6:30pm.
Community joins in to continue research, awareness
Clarksville, TN – Clarksville Mayor Kim McMillan has proclaimed May as Cystic Fibrosis Awareness Month in Clarksville and urges all citizens to learn more about and support those affected by Cystic Fibrosis.
Cystic Fibrosis is a genetic disease that causes debilitating lung infection, progressive lung destruction and premature death. An estimated 30,000 Americans have Cystic Fibrosis and more than 10 million unknowingly carry the defective gene.
Clarksville Park and Recreation achieves Tier III in TDEC benchmarking process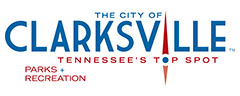 Clarksville, TN – The Clarksville Park and Recreation Department recently received high honors for its quality and effectiveness of services from the Tennessee Department of Environment and Conservation.
TDEC presented the Department with a plaque signifying attainment of Tier III status in the State of Tennessee's benchmark process.
Clarksville Letter carriers food drive will be May 12th
Clarksville, TN – Clarksville members of the National Association of Letter Carriers invite local residents to join them in their 26th annual National Food Drive on Saturday, May 12th, 2018.
The Stamp Out Hunger Food Drive, the country's largest single-day food drive, provides residents with an easy way to donate food to those in need.
Clarksville has chance to attract lucrative State Soccer Park
Clarksville, TN – The Clarksville City Council faces a key final vote Thursday on purchase of 409 acres near Interstate 24 Exit 8 for construction of a multi-sport Clarksville Family Athletic Complex.
The Athletic Complex would be built in phases and serve the outdoor recreation needs of Clarksville's growing population and add facilities to attract sports tourism-related economic development.