Clarksville, TN – On Saturday the City of Clarksville held the official lighting of the city's Christmas tree on public square. Normally the lighting is held in conjunction with the city's Christmas parade, however with inclement weather forcing the cancellation of the Christmas parade, that was not possible this year.
Clarksville Mayor Kim McMillan officiated short ceremony before lighting the city's tree Santa and Mrs. Claus.

Montgomery County, TN – The latest business to complete requirements for Clarksville-Montgomery County Green Certified and host a Green Ribbon Cutting is locally owned and operated Queen City Disposal.
Owners Jeff Purvis and Todd Beck felt it was important for their business to participate in a City/County Program that encouraged good environmental stewardship.
Clarksville, TN – The City of Clarksville and

Montgomery County Government have partnered along with Agero to host the 54th Annual Christmas Parade. The parade, a night-time, lighted Christmas parade, is scheduled for December 7th, 2013 beginning at 5:00pm in Downtown Clarksville.
The Christmas parade is an event for local businesses, schools, and organizations to showcase their Christmas spirit. Don't miss the Budweiser Clydesdales, the 101st Army Band and Grand Marshal local cancer survivor, Garrett Whipple!
A brief tree lighting ceremony will be held immediately following the parade on Public Square with Clarksville Mayor Kim McMillan and on the County Square with Montgomery County Mayor Carolyn Bowers. This year's parade theme is "Storybook Christmas". The deadline to enter is December 5th.
Parade entry forms are available at the city's three community centers, the Parks and Recreation office, and online at www.mcgtn.org or www.cityofclarksville.com/parade. The cost to enter is $30.00 for all entries except churches and civic groups. All entries must also be accompanied by an unwrapped new toy, non-perishable food items, or grocery store gift cards valued at $25.00. Church and civic groups need only donate item valued at $25.00 for entry.
All toys, non-perishable food items, and gift cards will be collected during parade check-in, on December 7th, and will be distributed among local charities.
For more information about the 54th Annual Christmas Parade, please contact Clarksville Parks and Recreation at 931.645.7476 or visit recpro.cityofclarksville.com.

Nashville, TN – The sparkling magic of the season comes to life in Dance Theatre of Tennessee's enchanting version of The Nutcracker. Highlighted by Tchaikovsky's brilliant score, the irresistible story of young Clara, a special gift and her fanciful dream to a world of sugary confections has charmed generations.
Dance Theatre of Tennessee brings this endearing holiday classic Clarksville! In line with its mission of bringing ballet to the people, Dance Theatre of Tennessee brings "The Nutcracker" to five cities in four Middle Tennessee counties – Davidson, Montgomery, Rutherford and DeKalb.
Clarksville, TN – As we all learned in elementary school, Thanksgiving is a celebration and a time for giving thanks for the blessings we have received and the obstacles we have overcome.
The first Thanksgiving feasts, we are told, were shared between the colonists and the Native Americans who had helped them survive. Indeed, those early celebrations recognized, at least in part, that without the natives, the settlers may not have survived.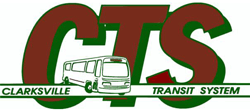 Clarksville, TN – The Clarksville Transit System will be offering free fares for riders all day on November 29th, 2013.
As part of the Regional Transportation Authority, CTS will be joining with other transit providers throughout Middle Tennessee who will be offering free rides.
Included in the program are the commuter buses from Clarksville to Nashville which will run as usual that day.

Clarksville, TN – The City of Clarksville's Christmas on the Cumberland, a Southeast Tourism Society's Top 20 Event for the sixth year in a row, is sure to create lasting memories this holiday season as thousands experience the captivating displays of over one million lights to include trees wrapped in new blue lights!
Join the City of Clarksville and US Bank as we celebrate Christmas on the Cumberland's 15th year with a grand opening ceremony, Tuesday, November 26th, 2013 at 6:30pm at McGregor Park's RiverWalk.

Clarksville, TN – The weekly Clarksville Parks and Recreation Department Recreation Report provides Clarksvillians with a glimpse at the activities and events that are available from the Parks and Recreation Department for them to enjoy together as a family.
This weeks highlights include: Christmas on the Cumberland, Walk with Me Tennessee Program, and Indoor Aquatic Center Toddlers Event.

Montgomery County, TN – The latest business to celebrate their Clarksville-Montgomery County Green Certification is Budweiser of Clarksville, owned by the Hand family of Clarksville.
Charles Hand, Chairman of the Board of Hand Family Companies, has a history of taking care of the environment. For decades, Hand has been doing his part to keep our community clean. His actions carried over to his family businesses when the Company began participating in the Adopt-A-Highway Program in the early 1990s, and the efforts have been growing ever since.

Clarksville, TN – On Tuesday, the Customs House Museum cut the ribbon on its newest permanent exhibit, "Becoming Clarksville: Honoring Legacies of Leadership."
Through the prism of leadership, the exhibit explores the history of Clarksville and Montgomery County, focusing on the stories of individuals who helped shape the city, featuring unique interactive and video elements. Becoming Clarksville also serves as a legacy for the Clarksville Jaycees, remembering its history and contributions to the people of Clarksville.