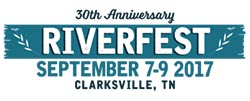 Clarksville, TN – Riverfest 2017 is shaping up to to be one of the most successful of recent years, (based on attendance) according to Clarksville Parks and Recreation's Robert Rayburn.
"We hear from a lot of people that say we are limited by McGregor Park," Rayburn said. "I think the success of this weekend shows that we can do more. We want this event to keep growing and improving."
Back at school, 'Kindness is Cool'
Clarksville, TN – Clarksville Mayor Kim McMillan and Montgomery County Mayor Jim Durrett have proclaimed August as "Kindness is Cool — Back to School Month."
Durrett and Clarksville Mayor Pro Tem Valerie Guzman presented the proclamation Tuesday at the Clarksville-Montgomery County Public Library as part of Clarksville Kindness Rocks project to promote random acts of kindness using art as a creative way to touch people.

Montgomery County, TN – Workforce Essentials was recognized today as a Clarksville-Montgomery County Green Certified business. City of Clarksville Mayor Kim McMillan; Chamber of Commerce President Melinda Shephard, Bi-County Director David Graham, and CMCGCP Steering Committee members Rose Melton, Daryl Pater, and Tim Swaw were present at the green ribbon cutting to congratulate the Workforce Essentials team on their certification.
Clarksville Mayor, Parks Director to discuss project with neighbors
Clarksville, TN – Clarksville Mayor Kim McMillan and Parks Director Jennifer Letourneau will meet with neighbors from around the proposed Urban Wilderness park in Midtown Clarksville to discuss the project.
The City officials will make a brief remarks and then take questions and comments about the proposal. The meeting, sponsored by neighborhood organizations, will be at 6:30pm, Tuesday, August 22nd, 2017 at Hilldale Methodist Church.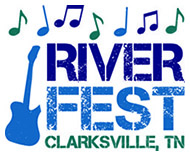 Clarksville, TN – Riverfest, the City of Clarksville's entertainment festival now in its 30th year, is pleased to announce Chris Janson will be the featured headliner at the 2017 Festival. Chris Janson will perform at 9:15pm Saturday, September 9th on the Bud Light Stage at McGregor Park. The concert is free and open to the public.
"Once again, the City of Clarksville is presenting a big star to headline our big-time community festival," Clarksville Mayor Kim McMillan said. "Chris Janson is one of the hottest artists in country music, and he'll be here to push Clarksville's Riverfest to new heights."
Clarksville Mayor Kim McMillan, United Way, Happy Kids open Outdoor Resource
Clarksville, TN – Clarksville Mayor Kim McMillan, United Way Executive Ginna Holleman and a playful group of Head Start students opened the Born Learning Trail at Liberty Park on Wednesday.
The project is a partnership between the City of Clarksville and the United Way of the Greater Clarksville Region.
Natural recreation area envisioned in heart of the Clarksville
Clarksville, TN – Clarksville Mayor Kim McMillan's 2018 budget, approved Monday by the Clarksville City Council, includes $450,000 to acquire a unique tract of land in the heart of Clarksville to be preserved as an Urban Wilderness.
The Clarksville Urban Wilderness would be on rugged land that lies between Madison Street and the Red River off of Tanglewood Drive. It includes dense vegetation, steep ravines, primitive trails, and a stream with a waterfall.
Clarksville Mayor Kim McMillan, United Way to dedicate trail June 21st
Clarksville, TN – Clarksville Mayor Kim McMillan will help celebrate United Way Worldwide's Day of Action at Liberty Park with the grand opening of the Born Learning Trail, an interactive set of activities for young children and their caregivers.
A ribbon-cutting ceremony will be at 2:00pm June 21st, 2017. Prior to the ceremony, from 8:00am to noon, 35 local United Way volunteers will help install the trail at Liberty Park.
City of Clarksville, Tennessee Housing Development Agency thank lenders for helping homebuyers
Clarksville, TN – Several local lenders and real estate professionals received a hearty "thank you" this week from Ralph Perrey, executive director of the Tennessee Housing Development Agency, for their effectiveness in helping homebuyers use THDA programs.
Earlier this year, THDA announced a new program — Hardest Hit Fund Down Payment Assistance (HHF-DPA) program — which offers an additional $15,000 to homebuyers who use a THDA Great Choice mortgage to purchase a home in neighborhoods hard hit by the 2009 national economic downturn and have been slower to recover.
Clarksville Mayor Kim McMillan will kickoff program June 3rd at Downtown Market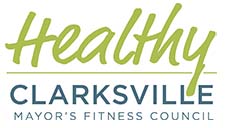 Clarksville, TN – Looking for a fun, easy way to ramp up your organization's wellness program? Or get a personal improvement project started?
Then join Healthy Clarksville/Mayor's Fitness Council for Walk Across Tennessee. Developed by University of Tennessee Extension, the Walk Across Tennessee campaign is designed to get Tennesseans on the path to health and fitness.

[Read more]