Honoring a Champion. Inspiring Greatness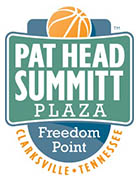 Clarksville, TN – Through the keen eyes of a sculptor, an architect and an exhibit designer, the Pat Head Summitt Legacy Plaza has come to life at Freedom Point.
A bronze statue of Coach Summitt, hometown hero and legendary University of Tennessee women's basketball coach, and an interpretative display of her life story will be dedicated at 3:00pmFriday, June 15th, 2018 in Clarksville's Liberty Park.
"Though her famous 'stare' may be missing, our sculpture hopes to embody her passion and fire," said Brett Grill, sculptor of the Coach Summitt statue. "She was a rare talent, quickly ascending to the highest reaches of her field, which she dominated throughout her career."