Clarksville, TN – Children across the nation recently celebrated the birthday of Dr. Seuss with Read Across America Day. The Roxy Regional Theatre continues the celebration in Historic Downtown Clarksville with the staging of "SEUSSICAL: The Musical", opening this Friday, March 17th, and continuing through April 8th.
Kendall Adaire Payne stars as The Cat in the Hat in this musical extravaganza that is sure to entertain the entire family.

"The Cat in the Hat is the narrative host who guides the audience through the show," Payne said. "He pops up here and there and pretty much everywhere, usually out of nowhere, with comedic blurbs."

Clarksville, TN – Looking for a cool way to spend this coming Saturday, July 25th? Join us at our cookout and box social for "The Music Man"!
Hamburgers and hot dogs, courtesy of Edward's Steakhouse, will be on the grill at 6:30pm, accompanied by sides from Whitt's BBQ. For those of you who have been eyeing the weather forecasts for the upcoming weekend, never fear … indoor dining will be available, so you can beat the heat in our air-conditioned lobby.

Clarksville, TN – Seventy-six trombones will close the Roxy Regional Theatre's 32nd season with a nostalgic bang when Meredith Willson's great American musical classic "The Music Man"marches onto the mainstage, July 17th – August 22nd.
Reprising his role from the 2011 national tour of "The Music Man", John Adkison stars as fast-talking traveling salesman Harold Hill, who cons the people of River City, Iowa, into buying instruments and uniforms for a boys' band he vows to organize … despite the fact he doesn't know a trombone from a treble clef! However, his plans to skip town with the cash are foiled when he falls for town librarian Marian Paroo, played by Mary Malaney.

Clarksville, TN – Mix a Hitchcock masterpiece with a juicy spy novel, add a dash of Monty Python, and you have the Roxy Regional Theatre's hilarious new offering, "The 39 Steps", opening Friday, June 19th, at 8:00pm.
Packed with nonstop laughs, this two-time Tony and Drama Desk Award-winning treat is adapted by Patrick Barlow from the 1915 novel by John Buchan and the 1935 film by Alfred Hitchcock.
Eli Jolley (whom Roxy audiences may remember as Tom Buchanan in The Great Gatsby) stars as Richard Hannay, a man whose boring life is turned upside down when he meets a mysterious woman with a thick accent.

Clarksville, TN – Move over, Tammy, Dolly and Loretta … there's a new trio in town! Classic country gets a musical makeover in Ted Swindley's "Honky Tonk Angels" at the Roxy Regional Theatre, beginning February 13th at 8:00pm.
Audiences who could not get enough of Always…Patsy Cline will find the perfect match in creator Ted Swindley's follow-up, which combines over 30 classic country tunes (including "I'll Fly Away," "Stand by Your Man," "Harper Valley PTA," "9 to 5," "Coal Miner's Daughter," "Ode to Billy Jo," "These Boots Are Made for Walking," "Rocky Top" and "I Will Always Love You") with a hilarious story about three gutsy gals who are determined to better their lives and follow their dreams to Nashville.

Clarksville, TN – The Roxy regional Theatre is currently staging the production of Louisa May Alcott's classic Little women. These books have been a childhood favorite for generations of little girls. As the Roxy regional Theatre's first release for the show states Louisa May Alcott's acclaimed story of love and family stands the test of time.
The Musical brings together the best from the books along with the talented cast of actresses and actors put together by the Roxy. The cast is outstanding the cast is simply outstanding!

Clarksville, TN – Originally published at the turn of the nineteenth century, Louisa May Alcott's acclaimed story of love and family stands the test of time. This fall, the Roxy Regional Theatre presents a new version of this enduring American classic with "Little Women: The Musical", November 7th – November 29th.
Based on Alcott's own life and originally starring Sutton Foster and Maureen McGovern in the Broadway production, "Little Women" follows the adventures of sisters Jo (Allie McCaw), Meg (Elena Pascullo), Beth (Laura Donnelly) and Amy March (Corinne Bupp) and their experiences growing up in Civil War America.
"On the Town" runs at the Roxy from September 17th-October 4th

Clarksville, TN – "New York, New York, it's a wonderful town!" This fall, the Roxy Regional Theatre embarks on its 32nd season of live entertainment with the 70th Anniversary of Leonard Bernstein's legendary musical about three sailors who manage to find love and incredible adventures in the Big Apple while on a 24-hour leave.
"On the Town" docks at the corner of Franklin and First Street, September 17th – October 4th, 2014.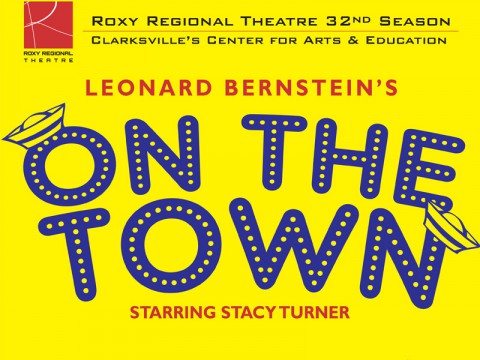 [Read more]

Clarksville, TN – Grease is the word, or so goes the story at the Roxy Regional Theatre starting tonight! Take a trip back in time to 1959 with Danny Zucko (Christopher Herr), Sandy Dumbrowski (Ashley Harris), and the rest of the Rydell High School crew as they learn about life and love during their senior year. The Roxy production will run July 11th-August 16th.
It doesn't matter if you've seen the movie or not, you will love this production at the Roxy Regional Theatre, as this is a great show that can totally stand on its own.

Clarksville, TN – Dust off your leather jacket, pull on your bobby-socks and hand-jive the night away with Rydell High's senior class of 1959! The hit musical "Grease" returns to the Roxy Regional Theatre, July 11th – August 16th.
Christopher Herr and Ashley Harris star as head "Greaser" Danny Zuko and girl-next-door Sandy Dumbrowski, two teenagers trying to relive the high romance of their "Summer Nights" as the rest of the gang sings and dances its way through such favorites as "Greased Lightnin'," "It's Raining on Prom Night," "We Go Together" and many more!