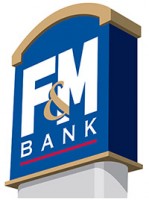 Clarksville, TN – During a 12-month period when Montgomery County's total bank deposits jumped by $175.8 million, F&M Bank remained in the top position among FDIC-insured banks with a 19.01% market share. It is the 14th consecutive year that F&M has maintained its market-leading ranking.
The fact that seven of the 11 Montgomery County banks have 10% or more of deposit market share underscores the extraordinary competitiveness within the market.
The updated market share reports – recently posted on the FDIC website – are based on federally insured deposits of banks and thrifts through June 30th, 2017.

Clarksville, TN – The 73rd annual meeting of Cumberland Electric Membership Corporation is scheduled Saturday, September 24th at Rossview High School, 1237 Rossview Road, in Clarksville.
The meeting is open to all members of CEMC. [Read more]