Clarksville, TN – Bike Walk Clarksville, a group of citizens on a mission to promote a more bicycle and pedestrian-friendly community, got rolling this week with a formative meeting at Wilma Rudolph Events Center.
The next meeting is scheduled for 6:00pm Tuesday, March 13th, 2018 at a site to be announced soon. Organizers have set up online sites to inform and connect members.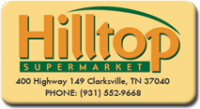 Clarksville, TN – Hilltop Super Market held their 22nd annual Easter Egg Hunt on Saturday, April 15th, 2017. The weather was nice and warm with a cool breeze that kept it from being hot. The event kicked off at 11:00am and the Easter Egg hunt began at 2:00pm.
There were several different activities for everyone to enjoy. There were inflatable bounce houses provided by U Jumpin' Foulks, face painting done by Montgomery Central High School Cheerleaders, cupcake decorating, a duck pond, and other games.

Clarksville, TN – Daymar College, in Clarksville, will host a Play-A-Thon family event July 23rd, 2016 from 9:00am-1:00pm.
There will be inflatables, carnival type food, music, games, a ride-a-thon, door prizes, limited school supplies and a drawing for a bike or two.
[Read more]