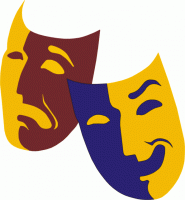 Clarksville, TN – If you love the comedies by the writing team of Jones, Hope, Wooten, you're sure to enjoy the next production of "Always A Bridesmaid" coming to the Cumberland Arts Centre Dinner Theatre stage February 9th, 10th, 16th and 17th.
This production, directed by Art Conn, has a cast of a few CAC veterans; Jan Dial, Debbie Striclyn, Amy Snider, Misty Rogers, Shellene Kent and newcomer, Beth Kirby.

Clarksville, TN – To anyone who has ever had a dream and dared to try and make that dream a reality, no matter what the obstacle, the Roxy Regional Theatre has just the show for you. Jeff Bowen and Hunter Bell's unique, unusually named hit musical comedy [title of show] comes to the corner of Franklin and First in Historic Downtown Clarksville, April 28th – May 13th.
A hilarious musical about a musical by people who write musicals, this Tony Award-nominated one-act centers on two struggling writers, Jeff and Hunter, who are desperate to get a piece into the New York Musical Theatre Festival. The only problem is they have no ideas … and the submission deadline is a mere three weeks away.
[Read more]

Clarksville, TN – Children across the nation recently celebrated the birthday of Dr. Seuss with Read Across America Day. The Roxy Regional Theatre continues the celebration in Historic Downtown Clarksville with the staging of "SEUSSICAL: The Musical", opening this Friday, March 17th, and continuing through April 8th.
Kendall Adaire Payne stars as The Cat in the Hat in this musical extravaganza that is sure to entertain the entire family.

"The Cat in the Hat is the narrative host who guides the audience through the show," Payne said. "He pops up here and there and pretty much everywhere, usually out of nowhere, with comedic blurbs."

Clarksville, TN – The Roxy Regional Theatre opens its production of "The Diary of Anne Frank" this Friday.
The play is based on the diary kept by its namesake during the two years she and her family spent in hiding from the Nazis. The Frank family was eventually apprehended and Anne died of typhus in the Bergen-Belsen concentration camp.
Her father, Otto Frank, was the family's only survivor and had a hand in getting his daughter's writing published. Today the diary has been published in more than 60 languages.

Clarksville, TN – For over half a century, her memoir has captured the hearts of millions around the world. Now the Roxy Regional Theatre is bringing to life the inspirational true story of a young girl swept up in the turmoil of the Holocaust in "The Diary of Anne Frank", opening Friday, February 17th, at 8:00pm.
During the Nazi occupation of the Netherlands, Anne Frank began to keep a diary on June 14th, 1942, two days after her thirteenth birthday and twenty-two days before going into hiding with her mother, father, sister and four others.