Clarksville, TN – On a warm, May afternoon in 2012, Australian tennis star Samuel Groth stunned spectators at the Busan Open when he delivered a 163 mph serve—the fastest serve in the history of that sport.
A grainy YouTube video from that day shows Groth's opponent, Belarusian Uladzimir Ignatik, flailing in his unsuccessful attempt to connect with the ball.

Clarksville, TN – A popular holiday tradition returns to the campus of Austin Peay State University on the evenings of December 2nd and 3rd as the University's choral program hosts the Austin Peay Department of Music's Seventh Annual Holiday Dinner.
Tickets for the dinner are $70.00.

Clarksville, TN – To help usher in the Thanksgiving holiday, the Austin Peay State University Department of Languages and Literature will host the 22nd annual Bread and Words Benefit to raise public awareness of hunger in the local community.

Clarksville, TN – The Austin Peay State University Opera Workshop will explore the diverse works of one of history's greatest playwrights, William Shakespeare, as it presents "Brush Up On Your Shakespeare" on Sunday, November 20th.
The curtain rises at 3:00pm, in the Mabry Concert Hall, located inside the Music/Mass Communication Building on the University campus. The show is free and open to the public.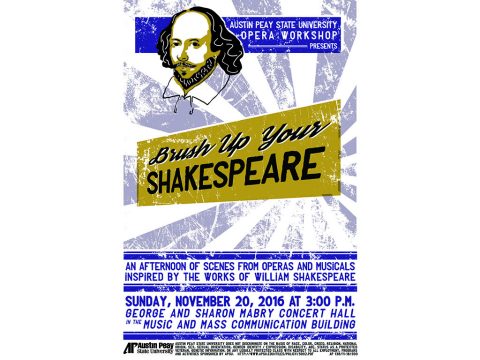 [Read more]

Clarksville, TN – It is not exactly like the old joke about three opposite personalities that all walk into a bar, but anything – and everything – goes when a brassy nightclub singer, a starry-eyed stowaway and a wanted man all find their way onto a transatlantic luxury liner during the Austin Peay State University's Department of Theatre and Dance's presentation of "Anything Goes" this November 16th-20th.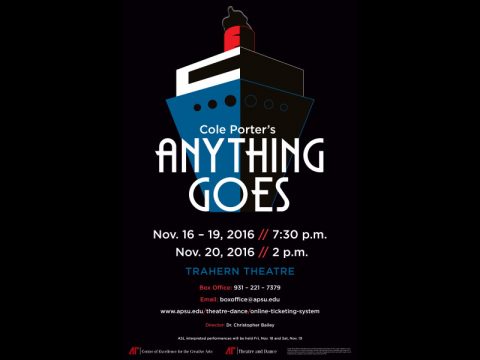 [Read more]

Clarksville, TN – The Austin Peay State University Department of Art and Design will unveil its newest exhibition, Topography: Exploring Dimensionality in the Jim and Nan Robertson Photography Collection this November.
Curated by Jewel Birdsong Scholarship and Presidential Scholarship recipient Sara Straussberger, the exhibition will be on display from November 10th-March 2017 in the Harned Building's Mabel Larson Gallery.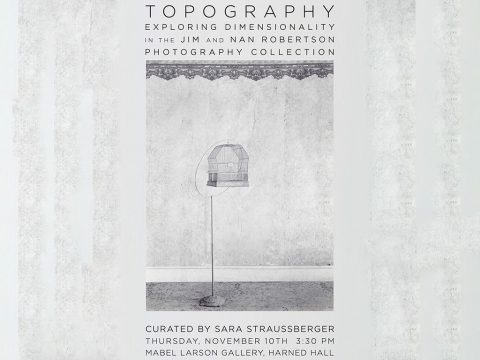 [Read more]
Clarksville, TN – The Austin Peay State University undergraduate chapter of the Zeta Phi Beta Sorority, Inc., an international non-profit community service sorority, was recognized last month as being the number one collegiate chapter in Tennessee for community service activities. The designation came during the sorority's Tennessee Leadership Conference, held in Nashville on October 28th and 29th.
"I am very proud of this wonderful group of young ladies, and their work to support the community in a variety of ways really speaks to who we are as Zeta women, and what we were founded on as an organization," Sheila Bryant, on-campus adviser for the chapter, said.
Alumni and undergraduate chapters from all over the state met in Nashville last month for the conference, where they participated in workshops and service activities related to the charge of the sorority. The APSU chapter, Gamma Nu, was recognized for its service work during the annual service awards luncheon.
"These young ladies diligently seek ways to help others, not only in the APSU community, but Clarksville as well," Allyson Johnson, the chapter's graduate chapter advisor, said. "They truly exemplify our founding principles."
Five co-ed students at Howard University, who envisioned a sorority that would promote the highest standard of scholastic achievement and finer womanhood,founded Zeta Phi Beta Sorority, Inc., on January 16th, 1920. Headquartered in Washington, D.C., Zeta Phi Beta Sorority, Inc. has a diverse membership of more than 120,000 college-educated women with more than 1,000 chapters in North America, Europe, Asia, the Caribbean, Africa and the Middle East.
For more information, please visit www.zphib1920.org or contact Kianna Marshall, president of APSU's Zeta Phi Beta Sorority, Inc., at .
Additional information on the local undergraduate chapter is available at www.apsu.edu/greek-life/zeta-phi-beta-sorority-inc

Clarksville, TN – In the mid-1960s, Austin Peay State University professor of biology Dr. David Snyder began work on a monumental task.
Commissioned by the Tennessee Valley Authority to conduct an inventory of the herpetofauna, or reptiles and amphibians, of the newly established Land Between the Lakes National Recreation Area, Snyder and a small team of researchers and students set about cataloguing the various species contained within the 170,000-acre plot of land crossing the Tennessee and Kentucky border.

Clarksville, TN – Austin Peay State University Department of Communication students were recently honored for their work at the 2016 Tennessee Communication Association Student Film Showcase, held during the TCA's annual conference in Dickson, in September.

Montgomery County, TN – Two Principal appointments has been announced by the Clarksville-Montgomery County School System (CMCSS).
Jessica Harris, who has served as principal at Hazelwood Elementary School for three years, has been appointed to the Byrns Darden principalship, replacing Andy Lyons who has accepted another position overseas.