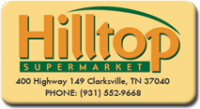 Clarksville, TN – Hilltop Super Market held their 22nd annual Easter Egg Hunt on Saturday, April 15th, 2017. The weather was nice and warm with a cool breeze that kept it from being hot. The event kicked off at 11:00am and the Easter Egg hunt began at 2:00pm.
There were several different activities for everyone to enjoy. There were inflatable bounce houses provided by U Jumpin' Foulks, face painting done by Montgomery Central High School Cheerleaders, cupcake decorating, a duck pond, and other games.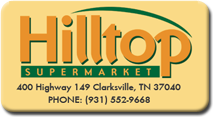 Clarksville, TN – Saturday, May 7th, was a great day for the Dwayne Byard Memorial BBQ Cook Off held at Hilltop Super Market. It was warm with a cool wind. Great weather for the event.
The smell of rich, sweet smoke was in the air. The aroma of grilling meat set your mouth to watering.
The cook off was held in honor of Dwayne Byard who past away last year. Proceeds from the event are going towards a scholarship fund for Dwayne's grandchildren.