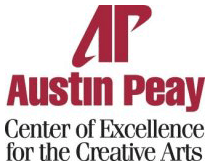 Clarksville, TN – Austin Peay State University welcomes two local authors to campus, as Andrea Spofford and Amy Wright will read excerpts of their works on Wednesday, April 1st at 1:00pm at the Morgan University Center, room 303. The event is free and open to the public.
Spofford is the author of two chapbooks, titled "Everything Combustible" and "Qikiqtagruk: Almost an Island." Her first full-length book, "The Pine Effect," is forthcoming from Red Paint Hill Publishing. A native Californian transplanted to the South, Spofford is poetry editor for Zone 3 Press, APSU's literary press, and an assistant professor of English at APSU.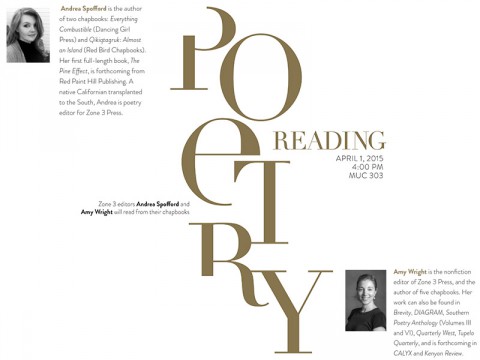 [Read more]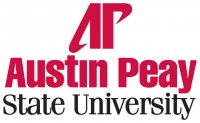 Clarksville, TN – During a presidential election year, names like Hillary and Sarah often stand out because all the other candidates stumping for votes are usually men.
The question of why women often shy away from politics has troubled Dr. Marsha Lyle-Gonga, chair of the Austin Peay State University Department of Political Science, since she was a doctoral student, and in 2010 she decided to host an event to encourage a new generation of women to get involved in the political process.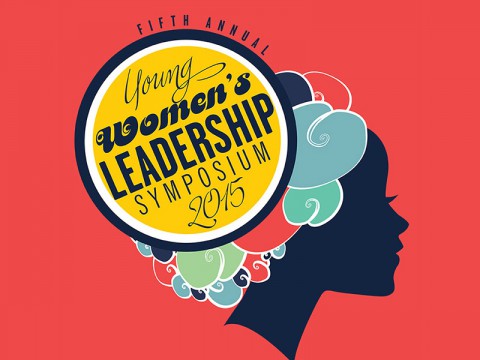 [Read more]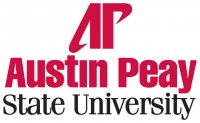 Clarksville, TN – The weather, which has been so abrasive these last few months, turned pleasant on Monday morning as people made their way into the Austin Peay State University Music/Mass Communication Building.
Instead of lingering under that clear, warm sky, hundreds of well-wishers eagerly filed into the windowless Mabry Concert Hall to watch Dr. Alisa White officially become the University's tenth president.
"Dr. White, we're thrilled you're here," Tennessee Governor Bill Haslam said during the ceremony. "We can't think of a more important time to be involved in higher education or a more important university."

Clarksville, TN – On March 31st, the Customs House Museum will present a Writers' Hour event in conjunction with its invitational exhibit celebrating women artists.
Local authors will read from their works that are themed to the museum's show, In the Garden.
"The museum has held several readings in the past," states Exhibits Curator Terri Jordan. "It is interesting to hear the variety of poems and stories from our local writers. Often funny, and sometimes sad, the audience is always blown away with the talent we have in the Clarksville area."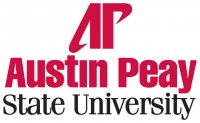 Clarksville, TN – The Dean of Austin Peay State University's College of Arts and Letters, Dr. Dixie Webb, knows first-hand the possibilities for a student pursuing a degree in history.
Webb shared those thoughts with the over 130 attendees of the annual Phi Alpha Theta (PAT) Regional History Conference, held February 28th on the campus of APSU. Founded in 1921, PAT exists to promote the study of history and is one of the largest honor societies in existence.
Students from universities across the region gathered at APSU, with Webb speaking on the value of a degree in history. Regardless of your ultimate career path, Webb said, a background in history can provide students with the tools necessary to succeed. [Read more]

Clarksville, TN – Local artist Marcus Eiland will be displaying his digital sculpture in the show, "Vast Planes to Quark's Feel" at Austin Peay State University's Trahern Gallery 108 from March 23rd–26th, between 10:00am – 5:00pm.
The opening reception is free to the public and takes place on Monday, March 23rd from 5:00pm-8:00pm. [Read more]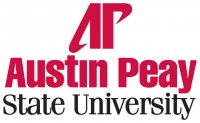 Clarksville, TN – When Lynda Wilkerson Conner attended Austin Peay State University in the early 1960s, she had a hard time finding a place to do her student teaching. Clarksville was a small, quiet town in those days, with a population of about 22,000 people and only a handful of public schools scattered around the area.
In order to fulfill her student teaching requirement and graduate, Conner had to travel nearly an hour out of town to a rural school in Greenbriar, Tennessee.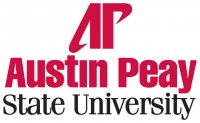 Clarksville, TN – Earlier this academic year, Austin Peay State University's Martha Dickerson Eriksson College of Education was reaccredited under the National Council for Accreditation of Teacher Education (NCATE) standards, ensuring that APSU's teacher candidates will be fully prepared to enter classrooms across the United States.
"For a school like Austin Peay, national accreditation is really important because our students go all over the country," Dr. Carlette Hardin, dean of the Martha Dickerson Eriksson College of Education, said. "When they go to another state, it's important that their state licensure board knows that our students came from a nationally accredited program."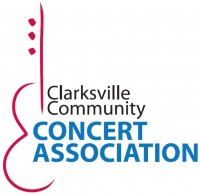 Clarksville, TN – The Cyrus Chestnut Trio will headline this year's 54th Annual Mid-South Jazz Festival in collaboration with the Clarksville Community Concert Association Saturday, March 28th at 7:30pm.
The trio plays jazz festivals around the world with Chestnut believing, "If I can send one person home after a performance feeling better than when they arrived, then I've done my job." Ticket information can be acquired through www.clarksvillemusic.org or 1.877.811.0200.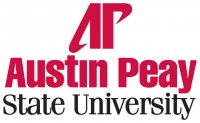 Clarksville, TN – If the answer is "The best in the southeast," then the question is "What is Austin Peay State University?"
The APSU Math Jeopardy team recently bested 27 other schools to take home the 2015 Mathematical Association of America (MAA) Jeopardy championship at the MAA Southeastern Section meeting, held March 12th-14th on the campus of the University of North Carolina at Wilmington. [Read more]