Clarksville, TN – In 2018, Austin Peay State University (APSU) continued to make headlines as the institution unveiled its first doctoral degree program, led the state in serving military-connected students and became the fastest-growing public university in Tennessee.

Clarksville, TN – The Austin Peay State University (APSU) Department of Theatre and Dance has had an incredible month with guest artists.
Thanks to the Center of Excellence for the Creative Arts, the Office of Advancement and the Tennessee Theatre Association, from October 11th-November 6th, 2018 the department welcomed a nationally recognized choreographer, a Tony Award-winner, the Phantom of the Opera and much more.

Clarksville, TN – Dr. Ben Stone, Austin Peay State University emeritus professor, grew up the second youngest of seven children, so his interests in biology and education didn't often make it into the family's crowded, dinner table conversations.
"In 1953, there wasn't much encouragement from my family to go to college," he said.

Clarksville, TN – Retired Lt. Gen. Ronald Bailey, former deputy commandant for Plans, Polices and Operations for the U.S. Marine Corps, was recently named vice president for external affairs at Austin Peay State University. Bailey, a 1977 APSU graduate, will oversee the University's offices of advancement, communication and strategic initiatives.

Clarksville, TN – Whenever people describe the late Betty Joe Wallace, the often use words like "scholar," "trailblazer," "mentor" and "friend." In the four years since the Austin Peay State University history professor passed away, another word frequently comes up—"philanthropist."
Before she died, Wallace told her husband, John Chapman, that she wanted to help students from her home in Stewart County earn a college education at Austin Peay State University.

Clarksville, TN – When longtime Austin Peay State University art professor and acclaimed sculptor Olen Bryant died in July, Clarksville resident Jim Mann understood as well as anyone what both the University and the Clarksville community lost.

Clarksville, TN – A recent gift from Bobby and Betty Mills to Austin Peay State University will ensure that the memory of their late son will endure and support future Montgomery County-area students as they work toward their educational goals.

Clarksville, TN – When John Morgan says he grew up on the Austin Peay State University campus, he's not talking metaphorically. His father, Joe Morgan, served as the University's fourth president, and during those years, the family lived in the historic Archwood Home on College Street.
John literally grew up at Austin Peay, and after earning his degree from the University, he continued to think of the campus as his home.

Clarksville, TN – The Office of Public Relations and Marketing at Austin Peay State University won 13 awards during the Tennessee College Public Relations Association (TCPRA) spring conference and awards contest held May 24th-26th in Gatlinburg Tennessee.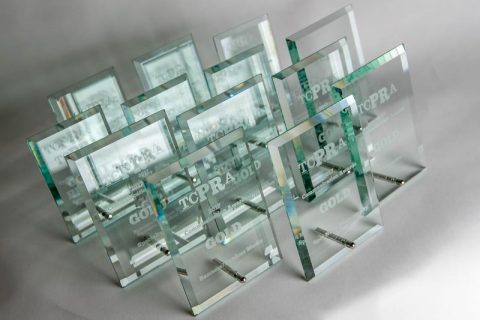 [Read more]

Clarksville, TN – On April 26th, during Austin Peay State University's Annual Scholarship Donor Dinner, Wayne Ard, and his late wife, Marianne, and Ron Morton were honored for their strong support of the University.
Ard, president of Ard Construction,received the 2016 Tennessee Board of Regents' Award for Excellence in Philanthropy. Morton, owner of the largest number of H&R Block franchises in the country, was presented with the University's 2016 Academic Advocate Award.