Clarksville, TN – Internationally acclaimed artist and sculptor Chris Boyd Taylor is the creator of Austin Peay State University's newest permanent art installation, "The Cardboard Kids," and he returns to campus for an official unveiling and artist talk at 3:00pm on Tuesday, August 30th in the Morgan University Center, Room 303.
A reception will precede the event at 2:30pm.

Clarksville, TN – Non-traditional students come in all shapes, sizes and backgrounds. For some, marriage and a family changed their priorities, while others may have enlisted in the military or simply decided a four-year college wasn't right for them after graduating high school.
Whatever the reason, each non-traditional student has a story and a unique journey that brought them back to school. To pay tribute to a student population at the very heart of Austin Peay State University's mission, work recently began on a permanent art installation on the University campus, titled "The Cardboard Kids: Monument to the Non-Traditional Student."

Clarksville, TN – From 8:00am to 4:30pm on Wednesday, July 20th, the Austin Peay State University (APSU) Center for Extended and Distance Education will host the 2016 Tennessee Business Tax Seminar and Workshop in the Morgan University Center, room 306.

Clarksville, TN – With a native speaker base of over 400 million people, it stands to reason that Spanish features a wide range of different cultural identities among the many countries that speak the global language.
The Spanish program at Austin Peay State University gives its students the skills to be fluent speakers and the tools to be global citizens, but for one day each year, the University invites area high school students to campus for a chance to experience the diversity of a language spoken in 21 countries across the world.

Clarksville, TN – High school juniors and seniors looking to jumpstart their college careers now have financial incentives to take dual enrollment courses at Austin Peay State University.
Tuition for dual enrollment classes, for up to 12 credit hours per semester, is now $166.00 per hour, which is significantly lower than regular tuition.

Clarksville, TN – The Austin Peay State University Office of Career Services will host a Science, Technology, Engineering and Math (STEM) Career Day, along with a Health Professional Career Day, from 1:00pm-4:00pm on April 4th, in the Morgan University Center Ballroom.

Clarksville, TN – About 700 years ago in Medieval France, several artists began producing extremely political works of art.
Looking upon their paintings or writings today, it may seem that these individuals were simply depicting religious scenes from the Bible, but the scenes they picked were meant to influence society's views on governance.

Clarksville, TN – The bitter fighting which defined the Civil War ended on April 9th, 1865 when Confederate Gen. Robert E. Lee surrendered the last major Confederate army at Appomattox Courthouse.
But the laying down of arms and the realization of a Union victory did little to quell the fires of hatred in the newly reunited and "reconstructed" United States of America.

Clarksville, TN – In 1964, a high-level AT&T executive named Robert Greenleaf decided to retire from his stable position in order to redefine how Americans think of leadership.
With his famous quote, "Good leaders must first become good servants," Greenleaf gave life to the servant-leader movement, which became a staple in college business classes and executive seminars at the end of the 20th century and the beginning of the 21st.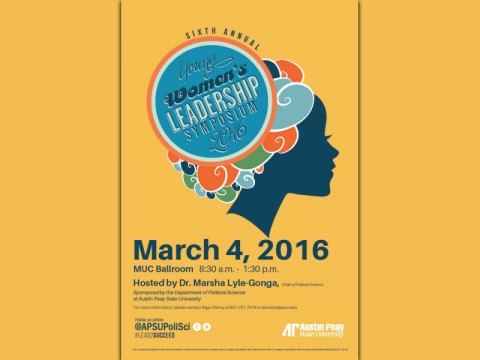 [Read more]

Clarksville, TN – Austin Peay State University's Tau Phi Chapter of the Alpha Phi Alpha Fraternity participated in the organization's national program, "A Voteless People Is A Hopeless People," in September.
During the event, the chapter registered 505 APSU students to vote in local, state and national elections.