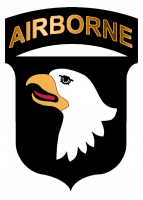 Fort Campbell, KY – The never ending cycling of soldiers between the battlefield to the home front and vise versa continued Wednesday evening with the return of the final flight of 105 soldiers from the 4th Brigade Combat Team (Currahees) who returned up early Saturday morning.
This deployment was scheduled to be nine months, a good portion of our brigade about 2000 soldiers returned back at the 6-7 month mark. These soldiers returning today Easy Company of the 2nd/506th Infantry Regiment of the HBO Band of Brothers fame. They were contacting a TA Uplift Mission, or a Train, Assist, and Advise Uplift Mission. Easy company was selected because they finished their mission ahead of schedule out of FOB Salerno in the Khost Province of Afghanistan." said Major Kamil Sztalkoper, 4th Brigade Combat Team Public Affairs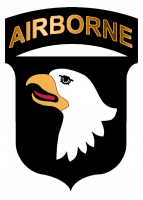 Fort Campbell, KY – A video depicting the Soldiers of 4th Brigade Combat Team (Currahee), 101st Airborne Division during their most recent deployment to Afghanistan.
Video by Staff Sgt. Matthew Graham
4th Brigade Combat Team, 101st Airborne Division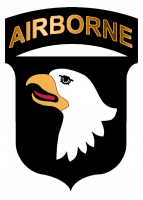 Fort Campbell, KY – A short video highlighting the Fallen Heroes from the Currahee Brigade, 4th Brigade Combat Team, 101st Airborne Division and it's most recent deployment.
We will never forget. Once a Currahee, always a Currahee.
Wyatt-Johnson Sales Representative Willie Rosario assists with the FRG's effort to help returning soldiers by purchasing bedding for their Fort Campbell barracks rooms.

Clarksville, TN – Willie Rosario has been working in the sales department for the Wyatt-Johnson Automotive Group since 2007. Over the course of those four years, Willie has had hundreds of clients, including many with military ties. A former soldier himself, Willie knows firsthand what it truly means to serve his country and fight for our freedom.
Willie wanted come up with a unique way to express his appreciation for area soldiers' continued service and sacrifices. After talking with Tammy Phillips, Family Readiness Group (FRG) leader for 4th Brigade Combat Team 506th Infantry Regiment, he learned that many single unmarried soldiers returning home from overseas deployments move back into practically bare Fort Campbell barracks rooms with very few amenities.
Fort Campbell, KY – The U.S. Army unit that includes the famous "Band of Brothers," the 506th Airborne Infantry Regiment, has announced a new monument to honor soldiers of the unit killed in service to their country. The 506th Airborne Infantry Regiment Association, a nonprofit veterans' organization dedicated to the active duty soldiers and veterans of the 506th Infantry, is acting on behalf of the regiment to collect contributions in support of the memorial.
The granite monument will be funded totally by private contributions, according to COL John P. "Pete" Johnson, commanding officer of the 101st Airborne Division's 4th Brigade Combat Team at Fort Campbell,. A Nashville cement contractor, Glenn Goodwin of Roy Goodwin Contractors, is contributing all the materials and labor needed for the foundation of the monument. COL Johnson made the announcement as part of a ceremony welcoming the regiment home from a combat tour of duty in Afghanistan. [Read more]