Clarksville, TN – The Austin Peay State University Department of Art + Design, along with the APSU Center of Excellence for the Creative Arts, will welcome classically trained visual artist and printmaker SWOON to campus at 6:00pm, October 4th, in Heydel Hall (Art + Design Building, Room 120) for an artist lecture.
Event to Bring 1,400; $182,000 in Visitor Spending

Clarksville, TN – More than 1,400 athletes, coaches, and spectators will visit Clarksville on Saturday, October 7th, 2017 for the Class A and AA Boys and Girls Cross Country State Championships.
Armed with tents, coolers and plenty of water, family members will cheer runners along the two-mile course beside the Hilldale Baptist Church Family Life Center, 250 Old Farmers Road.

Clarksville, TN – At the weekly meeting of the Kiwanis Club of Clarksville on Tuesday, September 26th, 2017 annual awards were presented and new officers were installed by the TN-KY District Division 14 Lt. Governor C. David Elliot.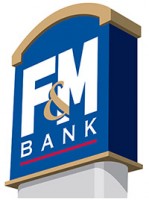 Clarksville, TN – On October 2nd, 2017, the Blood Assurance Blood Mobile and the F&M FunMobile are teaming up for a Blood Drive at F&M Bank's Main Office parking lot located at 50 Franklin Street in Downtown Clarksville. The event will go from 10:00am until 3:00pm.
Blood Assurance will be giving all donors a FREE "One Cool Donor" t-shirt and your choice of "I Bleed" football themed socks! You will also be entered to win a $250.00 gift card to Walmart!
The F&M FunMobile will be on site with FREE hot dogs, popcorn and drinks!!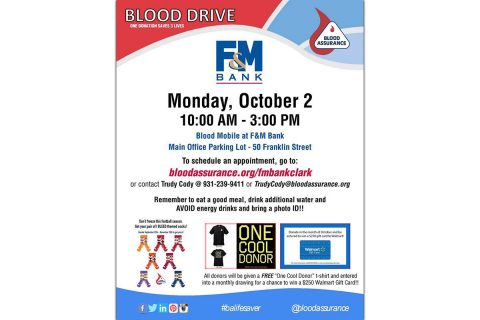 [Read more]

Clarksville, TN – The Austin Peay State University Center of Excellence for the Creative Arts (CECA, or "seek-ah") is pleased to announce that Andrew Scott Ross, of Johnson City, is the 2017-18 recipient of the Tennessee Artist Fellowship.
The CECA Tennessee Artist Fellowship was created to celebrate contemporary art and to support the continued creative work of exceptional Tennessee artists.

Clarksville, TN – When Garrett Allen is playing baseball there's a process for managing his Type 1 Diabetes (T1D). We check his blood sugar before the game and then disconnect his pump so it doesn't get damaged.
We check again around the 3rd inning and reconnect if necessary.

Clarksville, TN – For the past four years, Austin Peay State University senior music education and music performance double major Garrett Coscolluela has spent one weekend in August marching on the field of Lucas Oil Stadium in Indianapolis, Indiana.
But it wasn't until this past August — in his final trip to the home of the NFL's Indianapolis Colts — that Coscolluela had the hardware to prove he was among the best in what's considered the major leagues of marching band performance.

Clarksville, TN – Every veteran has a story, but not every veteran's story is remembered by history.
For each acclaimed general or honored battlefield leader, there have been countless American men and women who sacrificed their time, bodies and lives to protect their country — only to see their unique stories go untold after they took off the uniform.

Clarksville, TN – As part of the Global Engage partnership between the Austin Peay State University Center for Service-Learning & Community Engagement, the APSU Learning Opportunities Office, and the APSU Study Abroad Office, 13 students and three staff members participated in a service trip to St. Louis, Missouri, last month.

Clarksville, TN – As the final stages of construction on Austin Peay State University's new Art and Design Building were completed this summer, and with his campus studio unavailable, assistant professor Patrick Vincent had to look elsewhere to apply his printmaking.
"A lot of other disciplines of art can be done with less equipment, but printmaking requires a lot of machinery — some of it very old — and I didn't have a space this summer, so I guess I had to fly to another country just to get a studio," Vincent joked.