Clarksville, TN – The Southeastern Grasslands Initiative (SGI) held its inaugural volunteer workday at Dunbar Cave State Park on January 27th, 2019.
The predicted winter weather conditions gave way to perfect conditions for working outside.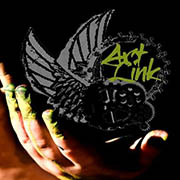 Clarksville, TN – The Chalk Walk Art Festival is accepting chalk artists, 3D Chalk Artists, 2D Chalk Artists and Artisans. Register and be apart of the big day that is coming to be Saturday, May 11th, 2019 from 11:00am until 6:00pm at the Downtown Commons.
On behalf of ArtLink and our Sponsors Two Rivers Company and The Downtown Commons we invite you to apply to be one of our very talented artists featuring live 3d chalk art, 2d chalk art and artisans for live demonstrations. We are having open registration from February 1st until March 30th. You can apply for one of the Artist openings at the link below.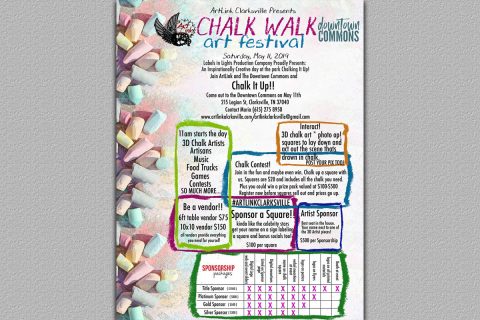 [Read more]
Clarksville Parks and Recreation Department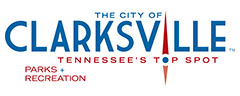 Clarksville, TN – The Clarksville Parks and Recreation Department has teamed up with Golly G's for a Candyland-themed evening of fun at the seventh annual Father-Daughter Date Night.
Dads and daughters are invited to the Wilma Rudolph Event Center from 5:30pm–8:30pm on Saturday, April 6th, 2019 to enjoy dinner followed by Golly G's Ice cream for dessert, a cookie decorating craft, photo booth and dancing.

Clarksville, TN – On Thursday, February 7th, 2019 the Austin Peay State University (APSU) Department of Theatre and Dance will continue their 2018 – 2019 season with "In the Blood" by Suzan-Lori Parks.
The play contains mature subject matter and themes, including explicit language, violence and sexual content. This play is not recommended for children.

Clarksville, TN – Austin Peay State University's (APSU) fifth "World Film Festival," which makes available to the community and APSU students a series of films from around the world and from diverse languages, starts Monday, February 4th, 2019.
Fort Defiance Civil War Park and Interpretive Center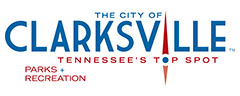 Clarksville, TN – A community favorite, Fort Defiance Civil War Park and Interpretive Center, 120 Duncan Street, offers a variety of events. Festivities are free of charge and diverse, offering something for visitors of all ages looking to have a great time at one of Clarksville's most treasured historic sites.
Clarksville's First Thursday Art Walk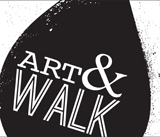 Clarksville, TN – Produced by The Downtown Clarksville Association, Clarksville's First Thursday Art Walk is a free, self-guided tour spanning a 5-block radius that combines visual art, live music, engaging events and more in the heart of Downtown Clarksville.
With 10+ venues, bars and businesses participating each month, the First Thursday Art Walk in Clarksville is the ultimate opportunity to savor and support local creative talent.
Clarksville Parks and Recreation Department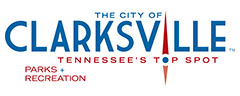 Clarksville, TN – In an effort to make getting active with Clarksville Parks and Recreation even easier, the department has launched a new, user-friendly online registration application, powered by CivicRec.
Users are able to use this new portal when registering for programs offered through the Activity Guide and view a searchable catalog of Clarksville Parks and Recreation programs and events.

Clarksville, TN – The Customs House Museum and Cultural Center is located in historic downtown Clarksville, Tennessee. Come explore an entire city block featuring large gallery spaces filled with fine art, science and history.
Some of the events in February at the Museum are: The Nature of Things: Alison & Frank Lyne, Dane Carder: The Healing Game, The Photography of Nathan Collie, Matthew Deric Gore: Setting the Stage, Twentieth Anniversary of the Tornado and Hands-on Activities: Build a Toothpick Structure.
City of Clarksville
Clarksville, TN – Construction on the Red River Trail East – Phase I section of the Cumberland Riverwalk will begin next week.
Construction vehicles will enter and exit on the east side of 868 Kraft Street (Action Air of Clarksville) beginning February 4th and continuing through August 2nd.