"Planters Bank Presents…" Film Series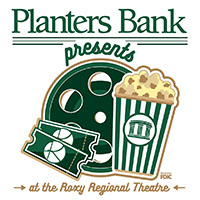 Clarksville, TN – The "Planters Bank Presents…" film series to show "The Santa Clause" this Sunday, November 19th, 2017 at the Roxy Regional Theatre at 2:00pm.
"The Santa Clause" is about divorced dad Scott Calvin who inadvertantly kills Santa on Christmas Eve and finds himself magically transported to the North Pole, where an elf explains that Scott must take Santa's place before the next Christmas arrives.
Scott thinks he's dreaming, but over the next several months he gains weight and grows an inexplicably white beard. Maybe that night at the North Pole wasn't a dream after all — and maybe Scott has a lot of work to do.
Purchase Tickets on Black Friday and receive a free gift

Clarksville, TN – Join in Clarksville Parks and Recreation's sixth annual Chocolate Affair for sweet and savory samples from more than 20 local and national businesses.
The event will be Saturday, February 3rd, 2018 at the Wilma Rudolph Event Center, 1190 Cumberland Drive.

Clarksville, TN – Endurance in Form: A Retrospective, Tom Rice's exhibition at the Customs House Museum, is a visual history of his growth as a Tennessee artist.
Included in the extensive show are pieces created from high school to the present, encompassing his experiences and influence of studying abroad, being mentored by the late Olen Bryant, through a 25 year teaching career.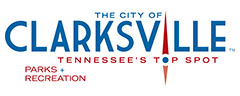 Clarksville, TN – Clarksville's McGregor Park RiverWalk was filled with music, dancing, and fans of Santa & Mrs Claus at Tuesday's official lighting of the city's 2,000,000 light holiday display.
Christmas on the Cumberland kicked off its 19th year with a grand opening ceremony that began at 5:30pm.
Federal grants provide updated restrooms, pavilions
Clarksville, TN – Clarksville's Valleybrook Park, a neighborhood green space on Crossland Avenue near downtown, reopened Monday after a facelift funded with federal grants secured by the City of Clarksville.
Improvements include two new playgrounds, new restrooms, a new pavilion, conversion of the old restrooms to an additional pavilion, and repaving of the parking lot.

Clarksville, TN – After the turkey and stuffing are put away on Thanksgiving night, bring your out-of-town guests to Historic Downtown Clarksville for family entertainment sure to get everyone in the holiday spirit.
Charles M. Schulz's "A Charlie Brown Christmas" opens at the Roxy Regional Theatre on Thursday, November 23rd, at 7:00pm. In keeping with the theatre's opening night pay-what-you-can tradition, all tickets not pre-sold at the regular ticket price will go on sale at 6:30pm that evening for a $5.00 minimum donation.
As an Black Friday bonus, pay-what-you-can tickets will also be available for the 8:00pm performance on Friday, November 24th, beginning at 7:30pm that evening.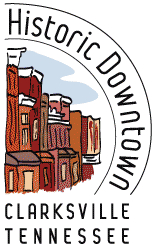 Clarksville, TN – The holidays are in full swing with the annual Holiday Open House and Small Business Saturday on November 25th, 2017. The businesses in Historic Downtown Clarksville invite you to stop by during regular business hours and enjoy some refreshments, door prizes and some special discounts.
Take advantage of this special day to enjoy the unhurried pace of shopping, where you will find some of Clarksville's most unique, independently owned shops.
[Read more]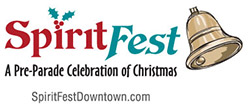 Clarksville, TN – The 3rd Annual SpiritFest, a holiday event from 2:00pm until 5:00pm on Saturday, December 2nd, 2017, will offer a bounty of free activities, including visits with Santa Claus, rides on the International Express Bus, four kids' inflatables, live music on the new Downtown Commons stage, ice skating, art and gift markets, food trucks and a live nativity with animals.
It will start three hours before Clarksville's 58th Annual Lighted Christmas Parade, which will pass by its location in Historic Downtown Clarksville.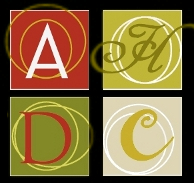 Clarksville, TN – Four Clarksvillians were recently honored by the Clarksville/Montgomery County Arts and Heritage Development Council for their achievements in art and in preserving our heritage.
Cindy Marsh, professor emerita of art at Austin Peay State University, and graphic designer Mike Fink received the Lifetime Achievement in Art award, and local historians Rosalind Kurita and Carolyn Stier Ferrell received the Lifetime Achievement in Heritage award.
"Planters Bank Presents…" Film Series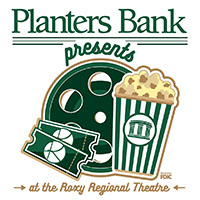 Clarksville, TN – The "Planters Bank Presents…" film series to show "Meet Me in St. Louis" this Sunday, November 19th, 2017 at the Roxy Regional Theatre at 2:00pm.
"Meet Me in St. Louis" is a classic romantic musical comedy that focuses on four sisters on the cusp of the 1904 St. Louis World's Fair. The film spotlights the sisters' education in the ways of the world, which includes, but isn't limited to, learning about life and love, courtesy of the prototypical boy next door.