Clarksville's First Thursday Art Walk sees large crowd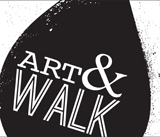 Clarksville, TN – For April's First Thursday Art Walk, Downtown Artists Co-op (DAC) featured the work of two local favorites, Beverly Parker and Bob Privett, in a show titled 'Two: Two Artists, Two Friends, Two Styles.'
Privett is a painter who works in the style Les Fauves, French for 'the wild beasts', a style that emphasizes strong color over realistic values.
Parker is a photographer, elements of Les Fauves can be seen in her work as well. Her sought-after works use exaggerated color, distressed images, and abstract layers that incorporate watercolor, text, and fabric.
Privett describes the paintings in this exhibit. "My work for this show uses a lot of bright colors to engage the viewers and illicit an emotional response. My paintings are characterized by bold bush strokes and bold colors, while the subject matter is simplified and more abstract."
Privett talked about the opportunity to work with Parker. "It was fantastic working with Beverly," He said. "Her artwork is extraordinary and I have always wanted to have an exhibit with her. Beverly's last exhibit was seven years ago so this was great timing for both of us."
The number in attendance truly tells the story. "The turnout was huge," Privett said. "The gallery was filled with people enjoying the artwork and talking to the artists. The DAC had to stay open later than usual to accommodate the crowd, we're thrilled with the support and feedback that we've gotten."
Guests at the DAC for each month's Art Walk enjoy not only great art and conversation, but food, wine and music as well. For April, Stuart Bonnington and Tom Griffin brought their guitars, and filled the room with the sounds of classic Americana.
The DAC is located at 96 Franklin Street. The gallery features artwork by Middle Tennessee and Southern Kentucky artists who have been juried and selected for membership. Works include paintings, drawings, fine art photography, jewelry, wood-turning and more.