Sculptor Tom Rice Retrospective on View at the Customs House Museum and Cultural Center

Clarksville, TN – Endurance in Form: A Retrospective, Tom Rice's exhibition at the Customs House Museum, is a visual history of his growth as a Tennessee artist.
Included in the extensive show are pieces created from high school to the present, encompassing his experiences and influence of studying abroad, being mentored by the late Olen Bryant, through a 25 year teaching career.
Works created using metal pins that have been removed from his back are also on display, casualties of working with heavy mediums.
Curator of Exhibits Terri Jordan states: "Part of the elegance of Tom's art is the history in each piece – the uniting of past life to contemporary form in the materials that speak to the artist. Within each piece of stone or wood, both smooth surfaces and slight imperfections, lies a story that I think the admirer can sense."
Born in Olympia, Washington, Tom Rice grew up in Tennessee and Illinois. After graduating with a BS from Austin Peay State University and an MS in Art Education from the University of Tennessee, he taught in the public school system.
He continued his art education through a residency with Japanese master potter, Shiro Otani; a Fulbright to the Netherlands and Belgium; an art exchange program in Switzerland; and at Arrowmont School of Arts and Crafts.
Tom works with a range of media including limestone, wood and clay. He recycles the stone from torn-down buildings, stone mills, and even discarded tombstones. Found objects often appear in his sculptures, alongside his signature stylized birds.
Rice explains, "My interest in birds goes back to when I was a child. I went out walking in nature, finding bird feathers, and observing birds. A bird feather is perfect."
Tom's work has been recognized internationally and his sculptures can be found in private and permanent collections such as Tennessee State Museum, the White House in D.C., Arrowmont School of Arts and Crafts, Austin Peay State University, Cheekwood Museum of Art, the Customs House Museum & Cultural Center, and the Nashville Airport.
Endurance in Form: A Retrospective will be on view at the Customs House Museum through January 7th, 2018.
For more information on above exhibition contact Terri Jordan, Exhibits Curator, at 931.648.5780 or
About the Customs House Museum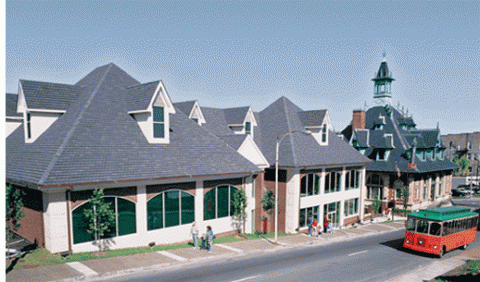 Located in the heart of historic downtown Clarksville, Tennessee, the Customs House Museum and Cultural Center is the State's second largest general museum. The original portion of the building was constructed in 1898 as a U.S. Post Office and Customs House for the flourishing tobacco trade. Incorporating a number of architectural styles, the original structure is one of the most photographed buildings in the region.
With over 35,000 square feet of the region's best hands-on activities and special events…people of all ages agree – the Customs House Museum is well worth the stop!
The Explorer's Gallery is packed with fun, learning and fantasy in Aunt Alice's Attic, McGregor's Market and kitchen, and of course – the Bubble Cave! Finally, get "all aboard" to see our fantastic model trains. Our volunteer engineers "ride the rails" every Sunday afternoon from 1:00pm to 4:00pm.
Regular museum hours are 10:00am to 5:00pm Tuesday through Saturday, and 1:00pm to 5:00pm on Sundays. Adult admission is $7.00, Senior Citizens and College ID $5.00, Ages 6 to 18 $3.00, and under six years and Museum members are free.
The Customs House Museum is located at 200 South Second Street. For more information, call 931.648.5780 or visit their website at www.customshousemuseum.org