Clarksville Parks and Recreation's Wettest Egg Hunt hits the mark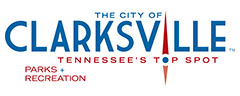 Clarksville, TN – On Saturday, April 8th, 2017 the Clarksville Parks and Recreation held their 5th annual Wettest Egg Hunts at the New Providence pool, located at 166 Cunningham Lane.
There were inflatables for everyone to enjoy as well as face painting, egg dyeing and a not so typical egg hunt. The Easter Bunny also was seen hopping around.
Thousands of eggs were scattered in the swimming pool, as well as the wading pool, for the kids to jump in and get candy and prizes. The ages for the egg hunt were 1 through 11.
The children who need it them were giving life vests before everyone lined up around the pool. Lifeguards were in the pool and at pool side to ensure everyone's safety.
"It's a little chaotic, but the kids are having a fun time," said Ashlee Holley, Aquatic Facility Manager. "There are all kinds of prizes the kids can win."
Once the signal was given, kids jumped and slid into the water and started napping grabbing all the eggs they could get.
After all the eggs were gathered, everyone began opening them up looking for a prize egg. There were different types of prizes depending on the age of the child.
"I think the event was excellent. I had a good time," Alana Jones stated. "I won a kite."
There were lots of different prizes depending upon the child's age. Some of the prizes were gift baskets, coloring books, stuffed animals, play-doh kits, plastic swords, super soakers and more. Everyone could also register for a chance to win one of two bikes or a summer pool pass.
"I think it's really nice of them to put this on. I like how they make sure everybody gets something. He didn't get anything from the egg hunt, but they made sure he got a bag filled with different things," said Naporsha Toliver.
An adaptive egg hunt was offered earlier in the day for children and adults with special needs.
"The event really went well. Everyone seemed to be really happy and having a good time," stated Holley. "Everybody walks away with an Easter basket or a bag full of goodies."
The Parks and Recreation staff did a wonderful job of putting this event together for the community. There was a large turnout and even though things at times looked chaotic, everything ran smoothly.
The Wettest Egg Hunt is a wonderful event for the kids. If you could not attend this year, then you should mark it down as a must do with your kids next year.