F&M Bank Continues Deposit Lead in Montgomery and Stewart Counties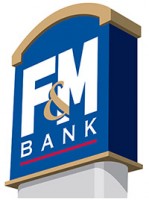 Clarksville, TN – For the 13th consecutive year, F&M Bank holds the top position in Montgomery County's market share of deposits, according to the FDIC annual summary of insured deposits published last Friday (September 30th). F&M also retained its top position in Stewart County, a ranking it achieved in 2015.
Annual market share reports are based on FDIC-insured deposits of banks and thrifts through June 30th, and includes 11 financial institutions in Montgomery County and three in Stewart County.
In Montgomery County over the previous 12 months:
Combined deposits of all 11 reporting banks grew by $72.7 million to reach $2.33 billion.
F&M's total deposits grew to $395.1 million, representing 17.0 percent of market share.
Other banks with double-digit market share were: First Advantage Bank with $346.3 million (14.9 percent), Planters Bank with $286.1 million (12.3 percent), U.S. Bank with $260.9 million (11.2 percent), Regions Bank with $256.2 million (11.0 percent), Bank of America with $252.2 million (10.8 percent) and Legends Bank with $238.3 million (10.2 percent).
In Stewart County over the previous 12 months:
Total deposits of three reporting banks grew by $10.4 million for total county deposits of $164.3 million.
F&M's total deposits grew to $84.4 million, representing 51.3 percent of market share.
Other banks in Stewart County are: Regions Bank with $60.0 million (36.5 percent) and Legends Bank with $20.0 million (12.15 percent).
"F&M Bank is fortunate to be located in one of our nation's most rapidly expanding economies," stated Sammy Stuard, chairman, president and CEO of F&M Bank. "The robust Middle Tennessee economic growth is attracting an influx of new banks into the region. However, thanks to our dedicated team of managers and staff, along with our many loyal customers, F&M continues to achieve profitable growth."
F&M Bank has 15 full-service banking offices in seven Middle Tennessee counties. As of June 30th, F&M reported $701.6 million in deposits, ranking 16th among all Tennessee-headquartered banks. F&M currently has assets of $950 million.
In addition to its full-service locations in Montgomery, Stewart, Robertson, Rutherford, Sumner, Wilson and Putnam counties, F&M operates mortgage-only offices in Davidson (Green Hills) and Williamson (Brentwood) counties.
For further information, contact Fred Landiss, Sr. Vice President of Marketing at fred. or 931.553.2029.