Appleton Harley-Davidson spreads Christmas Cheer with Coffee and a Prayer Drive Thru
A Coffee and a Prayer Drive Through for You

Clarksville, TN – For most people the holidays are a time of cheer, for others it can be hard times when it comes to thinking of loved ones lost or perhaps in our town a husband or wife that is overseas in the military leaving their families behind unable to share Christmas with their loved ones.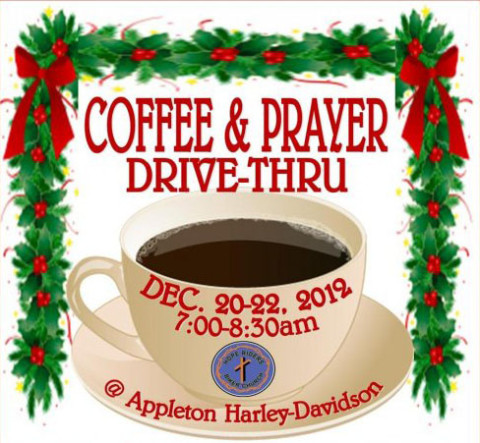 For this reason, Appletons Harley-Davidson/Buell is offering a little something to help brighten up people's mornings on their way to work. Starting Thursday, December 20th thru Saturday, December 22nd, stop by Appleton Harley-Davidson from 7:00am-8:30am for their Coffee, Prayer and a Doughnut drive through.
There is no charge, Appletons justs wants to show their token of appreciation to their customers, friends or anyone who may not have even walked through the doors of their business.
Just come by, stay in your car and receive a free cup of coffee and a free doughnut along with a prayer of a hand rested on your shoulder and for the good Lord to bless you throughout this Christmas Season.
Coffee, Prayer and a Doughnut starts December 20th and runs through December 22nd each morning from 7:00am-8:30pm.
About Appleton Harley-Davidson/Buell
Our mission at Appleton Harley-Davidson/Buell is to continue our founding fathers legacy of promoting the sport and love of motorcycling to all enthusiasts who enter our dealership. We are committed to providing a positive customer experience every time. This will be achieved by giving our customers deserved respect, products wanted, and quality service.
Appleton Harley-Davidson is located at 2501 Hwy 41 A Bypass, Clarksville Tennesse. For more information call 931.648.1607 or visit their website at www.appletonharley.com.