Handcrafted Holidays is a new Holiday tradition for Clarksville

Clarksville, TN – The Wilma Rudolph Event Center, located at Liberty Park, played host to "Handmade Holidays," a Crafters Bazaar which featured holiday-themed handmade and handcrafted items. It featured more than 40 booths of crafts, art, jewelry, pottery, quilts, soaps, and more.
Matthew Nixon of the Clarksville Department of Parks and Recreation said, "The idea for the Handmade Holidays event was the brainchild of the team behind the downtown market. Towards the end of the season. We knew that the market was going to be closing and we wanted to see if a craft show such as other entities have, would work here in Clarksville. So we scheduled it in the new Wilma Rudolph Event Center, and so far it's been a huge success."
He continued, "We actually had a lot of people waiting for us at 10 o'clock this morning. We've had huge crowds all day. The vendors have been happy, I've had so many say, 'We made our money back. We're excited and are looking forward to next year;' which, yes, we will have again next year around the same time."
Phyllis of Phil's Creations was one of the vendors at the event, "I think it's wonderful, the building is wonderful. It's really turned out well for me. Businesses been great, and it's something that I would look forward to being a part of again next year. I also do the downtown market, and we want people down there too."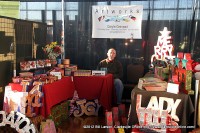 Darrell Grenead is a local artist and art educator, who does letter sculptures for people, as well as paper baskets. I think it's great! It's been a good turnout, and I love the facility. It's my first time in here. I think it's good that we got a lot of people from outside the Clarksville area, which makes it even better.
It's a great event for local artisans to show the wears, ever be able to pick up really an expensive gifts for Christmas. It's better than going to the mall and shopping. At least here, you know they are handmade.
Janis Emery of the Pure Joy Soap Company said, "The Handmade Holidays event here at the Wilma Rudolph Events Center has been amazing! We've had huge crowds of people coming out. We've got some truly talented craftspeople here displaying their wares. The staff there has been wonderful, they've done an excellent job of setting everything up and making us all feel welcomed and special. The turnout has been really really good, pretty much crowds all day long. Business has been incredible!"
Amy Shaver was shopping for some Christmas Gifts with her daughter, "This is great! We were driving by and saw the parking lot full, so we decided to swing in. We had seen the event advertised on Facebook and on Clarksville Online. This has been such a wonderful event that supports local vendors, and it is also a chance get some Christmas shopping done. I'm a big environmentalist I love to see things recycled and just about every single booth has something that has been created out of something else. So that is what I'm having the most fun with same PVC pipe, ribbons burlap bags, soaps, lotions and all kinds of stuff. It's a lot of fun."
You can look forward to seeing this event next year. Watch for more information on Clarksville Online.