APSU faculty and students attend National Science Foundation workshop in Knoxville Tennessee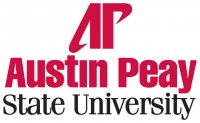 Clarksville, TN – Scientists in all fields often face the challenge of explaining to the public why their research is important. Scientific jargon and technical terms often bog down interviews and simple conversations, occasionally leaving people more confused than when they started listening to these individuals.
On November 7th, a group of Austin Peay State University faculty members and students traveled to Knoxville for a National Science Foundation workshop that addressed this exact problem.
Dr. Christopher Gentry, director of the APSU Office of Undergraduate Research, said the workshop, "Science: Becoming the Messenger," was geared at "creating researchers, students and public information officers who can effectively present scientific information effectively to a broad audience."
The program focused on getting attendees comfortable with face-to-face radio and television interviews, as well as using social media.
Gentry, an associate professor of geography, attended the workshop with Dr. Chris Gienger, assistant professor of biology, and Dr. Brian Hock, associate professor of psychology. They also brought four undergraduate students with them – chemistry and biology student Alix Farmer, mathematics student Stephanie Jessie, geosciences student Kayla Pendergrass and biology student Shawn Settle.
The group attended the workshop for free, thanks to funding provided by TN-SCORE, a NSF-funded organization that seeks, according to their website, to "advance the capacity of science, technology, engineering and math (STEM) research at all Tennessee academic institutions furthering their contribution to state economic priorities and leading solutions to problems of national significance."
For more information on the workshop, contact Gentry at .