Riverfest partners with F.U.E.L to help collect food for children in Clarksville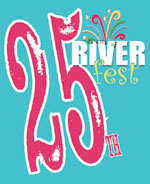 Clarksville, TN – Riverfest is excited to partner with F.U.E.L., a food subsidization program, by serving as a collection site for food donations, September 7th and 8th, 2012 at McGregor Park.
F.U.E.L (Full of Emmaus Love), is designed to feed children whose only food source may be the food they are receiving at school by collecting donations, bagging them and distributing to schools to place in children's back packs each Friday. The program currently services 1800 children in the Clarksville Montgomery School System.
Festival-goers are encouraged to donate the following items:
Peanut butter & crackers
Nuts in a pouch
Tuna in a pouch or canned tuna
Beef sticks
Milk in box (no refrigeration required)
2% milk pudding cups (plastic pull top)
Small boxes of cereal
Poptarts
Cereal bars
Cheese & crackers
Cheese combos
Fruit cups (plastic pull top)
Granola bars
100% juice boxes (no pouches)
Chips
Cookies
Candy
Canned chicken
Dry chicken noodle soup
Tuna Helper
For a more information, please visit www.clarksvilleriverfest.com or call 931.645.7476.