APSU Assistant VP of academic affairs chosen as TBR Maxine Smith Fellow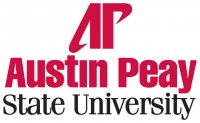 Clarksville, TN – After being nominated by the top two administrators at Austin Peay State University, the assistant vice president of academic affairs at APSU has been selected by the Tennessee Board of Regents as a Maxine Smith Fellow.
Dr. Brian Johnson will split his work duties between APSU and the Tennessee Higher Education Commission (THEC) in Nashville, where he will work under the mentorship of Dr. Richard Rhoda, executive director of the THEC. Johnson, whose project will focus on the Complete College Tennessee Act, was nominated by APSU President Tim Hall and Dr. Tristan Denley, provost and vice president of academic affairs.
Named for civil rights and educational activist, Dr. Maxine Smith, of Memphis, who served 12 years on the TBR, the Maxine Smith Fellows Program provides opportunities for African-American employees of TBR schools to participate in a working and learning environment that will enhance their work experience and career development. The program is intended to provide experience with administrative roles in the system or in upper-level policymaking positions.
Prior to his appointment at APSU in early 2010, Johnson was an associate professor of English Johnson C. Smith University in Charlotte, NC, where he also had served as chief of staff in the president's office. There, he also served as associate vice president of academic affairs.
From January 2006-August 2007, Johnson was founding director of the Jonathan Jasper Wright Institute for the Study of Southern African American History, Culture and Policy at Claflin University in Orangeburg, SC. He also had served as director of TRiO and the Ronald E. McNair Post-Baccalaureate Achievement Program from August 2002-August 2003 at the University of South Carolina, where he also was associate director of freshman English and composition.
Recently, Johnson had four volumes of an encyclopedia series published in which he served as an editor. He co-edited "Conflicts in American History: A Documentary Encyclopedia," published September 2010 by Facts on File Infobase Publishing in New York City, NY.
Johnson is known for his scholarship on W.E.B. Du Bois, a prominent intellectual leader and civil rights activist on behalf of blacks in the first half of the 20th century, and is the author of two books on Du Bois. His more recent book, titled "William Edward Burghardt Du Bois, Toward Agnosticism (1868-1934)," was published in 2008 by Rowman and Littlefield, New York. His other book, titled "Du Bois on Reform: Periodical-Based Leadership for African Americans," was released in 2005 by the same publisher.
Johnson earned a Ph.D. in English in 2003 from the USC. He received his M.A. in English from the University of Wisconsin-Madison. His bachelor's degree in English is from Johnson C. Smith University.