Clarksville's newest Wendy's Restaurant sets the standard
Riverside Drive Location re-opening date still undetermined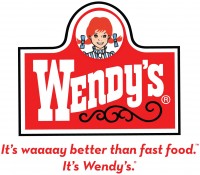 Exit 1 has been undergoing a serious boom in recent years. It started with the addition of Great Escape Theatre at the Intersection of Trenton Road and Tiny Town Road, since then new businesses have been attracted to the area. The newest being on June 30th, 2010 with the opening of the Clarksville area's seventh Wendy's Restaurant located at 1824 Tiny Town Road.
The designers of the restaurant planned a return to the casual elegance that Dave Thomas intended for the franchise when he opened the original Wendy's in Columbus Ohio back in 1969. Their newest restaurant features warm earth tones, a carpeted dining room, tiled floors, and textured two toned walls, frosted glass partitions, tin roofed ceilings in the restrooms, and the Dave Thomas memorial wall. There is a nice comfortable atmosphere which you can feel right away when you step into the dining room.
It is understandable that General Manager Ryan O'Malley feels a certain amount of pride in his new Wendy's restaurant, "This is a dining room that Dave Thomas would be proud of" he said. District Manager Alice Daube agreed, "The design features included in this store, has enhanced Wendy's Corporate Design Standards for new restaurants." The design was created by restaurant design coordinator Sonya Jewell, from Bowling Green.
Ryan along with his dedicated team of employees are taking great pains to ensure that the you receive a level of service that Dave Thomas would be proud of as well.
Wendy's has been setting standards for fast food restaurants since their inception. In 1970 with the opening of their second store they introduced one of the first drive-through windows featuring a separate grill, beverage, and sandwich station. According to the English language Wikipedia, "Wendy's crafted the formula for drive-thru operations that made it a staple in the fast food industry."
Riverside Drive Location
Asked about the Riverside Drive Wendy's Restaurant which is still closed after the Great Flood of 2010, Daube stated they were still in talks with the property owner which has delayed the renovation and re-opening. However when they re-open the store would be totally renovated featuring a look similar to their new location on Tiny Town Road.
When their Riverside Drive location was closed after the May 2010 flooding, not one single employee was laid off, every one of their employees were relocated to other Wendy's location in our community.
Community Involvement
Wendy's has a commitment to our community that is amazing. Wendy's is a also major partner with Austin Peay State University's Athletics program, and they feed all the participants in the annual Special Olympics program.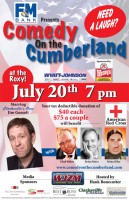 They are a major sponsor of the Comedy on the Cumberland Charity Benefit; having sponsored both the inaugural comedy event that helped Project F.U.E.L. to feed hungry children in our school system, and the upcoming show on July 20th, which will go to benefit the American Red Cross. You can get more information at http://www.comedyonthecumberland.com/.
Wendy's of Bowling Green is also one of the sponsors of Clarksville Online and Discover Clarksville.
It really is a exceptional place, so stop on by and check it out, and see what is sure to become the new standard in Fast Food Restaurants!
Hours
The store is open at 9:45am and on Sunday through Thursday it closes at 1:00am, on Friday and Saturday at 2:00am.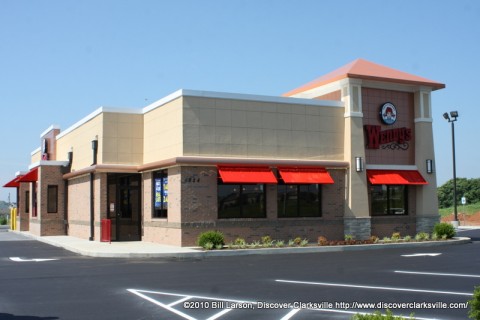 Opening Day Photo Gallery
To view photos of the opening day of the new Wendy's Restaurant visit our Photo Gallery at:
http://www.discoverclarksville.com/photogallery/index.php?album=business%2Fwendy-s-restaurant-opening