H.O.P.E awards scholarships to four local high school students.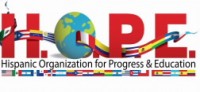 On Thursday, the Hispanic Organization for Progress & Education issued the Juan Vasquez scholarship to 4 High School Students from the Clarksville-Montgomery County Area: Yarliz Rodriguez, Francis Nicole Griffin, Rebecca S. Keyes, and Yazarette Guzman. Hope looked at the students civic involvement and their grades in determining who to award the scholarship to.
A video used to be embedded here but the service that it was hosted on has shut down.
Ismael Onate from the El Toro De Don Jose Mexican Restaurant was on hand to present the first installments of what he hopes will become an annual scholarship award to "give something back to the community". He said "We try to help students in the Hispanic Community to give them a scholarship and help them on the path to a career. This is the first time that we have done this, and we plan to continue it every year, because we get a lot from the community and we want to give them something back." This time each of the three students were awarded $200, but plans are in place to increase that amount next year.
El-Toro was founded in 1996, and serves some of the best Mexican Food in Clarksville, TN. They are located at 1200 Fort Campbell Boulevard just up from Lafayette Road.
Yazarette Guzman plans on attending Austin Peay State University and plans to join APSU's ROTC program and take part in the Army's Simultaneous Membership Program (SMP) which allows a student to serve in the Army National Guard or Army Reserves while at the same time being a fulltime student. After completing College she hopes for a career in U.S. Army as an officer. "I want to be able to help my country and save lives. Everyone who is able to help out in this world inspires me! I want to make a difference and be a good role model to others." she said.
Rebecca Keyes will also be attending Austin Peay State University but has another direction in mind for her life. She plans to study Philosophy with a minor in Business. She would like to own a vintage clothing store in Historic Downtown Clarksville. She also hopes to take over the Little Mexico & Latin Folklore Dance Group one day. "I want to learn about so many things, I can't wait to start my college career." Rebecca said. She plans to use the scholarship she received from HOPE to purchase a laptop computer to help her with her studies, and to help her buy books.
Frances Nicole Griffin will kick off her advanced education at Austin Peay State University. After completing her undergraduate degree at APSU she plans on finding the "perfect" University at which to get a graduate degree. She wants to go into the medical field to become an Occupational Therapist with a focus on pediatrics. "I decided that I want to be an occupational therapist for children because I want to help people." Frances has a secondary goal in life to become a published author.
Northwest High School student Yarliz Rodriguez had to leave before we had the opportunity to interview her but we are told she also plans to attend Austin Peay State University.
The scholarships are a life long dream of H.O.P.E and it's founder Juan Julian Vazquez. "We are very fortunate and delighted that we are able to give these deserving students scholarships to help them on their path to a successful life" said H.O.P.E President Elizabeth Valdez-Adamski