The Clarksville Parks and Rec Report

The weekly Clarksville Parks and Recreation Department Recreation Report provides Clarksvillians with a glimpse at the activities and events that are available from the Parks and Recreation Department for them to enjoy together as a family. This weeks highlights include:  
Park Closures
Pool Passes
Kleeman Community Center
Downtown Market
Movies in the Park
Update on the City of Clarksville Parks
The City of Clarksville wants to remind citizens, for your safety and well-being, the following parks will remain closed until further notice:
Airport Park
Billy Dunlop Park- will re-open Monday, May 10.
Coy Lacy Park
Heritage Park – will re-open Monday, May 10.
McGregor Park to include the pedestrian overpass and elevators
Portions of the Greenway
Sherwood Forrest Park
Trice Landing
Valleybrook Park
We advise citizens to use extreme caution by avoiding these areas all together.
Pool Passes Go On Sale Today 
Pool passes for the 2010 summer season will go on sale Monday, May 10th. Pool passes are available for purchase during business hours at the Parks and Recreation office located at 102 Public Square or any of our three community centers. The City of Clarksville pools are scheduled to open May 29th.
Pool Pass Pricing
Includes all 5 pools and I.D. Card
1 Person $60
2 People $100
3 People $110
4 People $120
5 People $130
6 People $140
*If you have more than 6 people to register, you are required to purchase a separate pass.
Kleeman Community Center Grand Re-Opening Postponed

The Grand Re-Opening for Kleeman's newly renovated gymnasium that was scheduled for May 6th has been postponed. We look forward to rescheduling the event and keep an eye out for updates.
Downtown Market Opens May 15th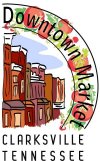 Come down to Public Square every Saturday beginning May 15th from 8am to 1pm for the Clarksville Downtown Market. The market will feature fresh, locally grown produce, nursery stock, handmade craft items, and other seasonal commodities. You can also find baked goods, home décor, seasonal flowers and more!
Become a fan on Facebook by searching "Clarksville Downtown Market" and stay informed on what's "fresh" each Saturday. You can also visit our website at www.clarksvilledowntownmarket.com.
Downtown Market Opening
 "Oh, What a Night" 
Movies in the Park
 This year the City of Clarksville's Parks and Recreation Department has decided to bring even more stars to Heritage Park- instead of four viewings, we will now offer eight viewings for the 2010 season! Come early to save your spot and enjoy pre-show activities beginning at 6pm with the movie following at dark. Be sure to bring your picnic blankets and lawn chairs. You are welcome to bring picnic baskets, but concessions will be available. Admission to the movie is free.
Join us for the kick off of Movies in the Park, Saturday May 22nd at Heritage Park Soccer fields for the viewing of Monsters v. Aliens. Due to the recent flood, the showing of Forrest Gump which was scheduled for May 8th will be rescheduled for August 7th.
2010 Movies in the Park Schedule:
May 22 – Monsters v. Aliens
June 12 –The Notebook
June 26 – The Blind Side
July 10 – Star Trek (2009)
July 24 – Planet 51
August 7 – Forrest Gump
August 14 – Hairspray
August 28 – The Dark Knight
Movies in the Park